Controlled Documents for Elements
CtrlDocs for Elements is a Pre-Configured Solution that extends your Elements Space with management of Controlled Documents.
Learn more | Book a Demo | Features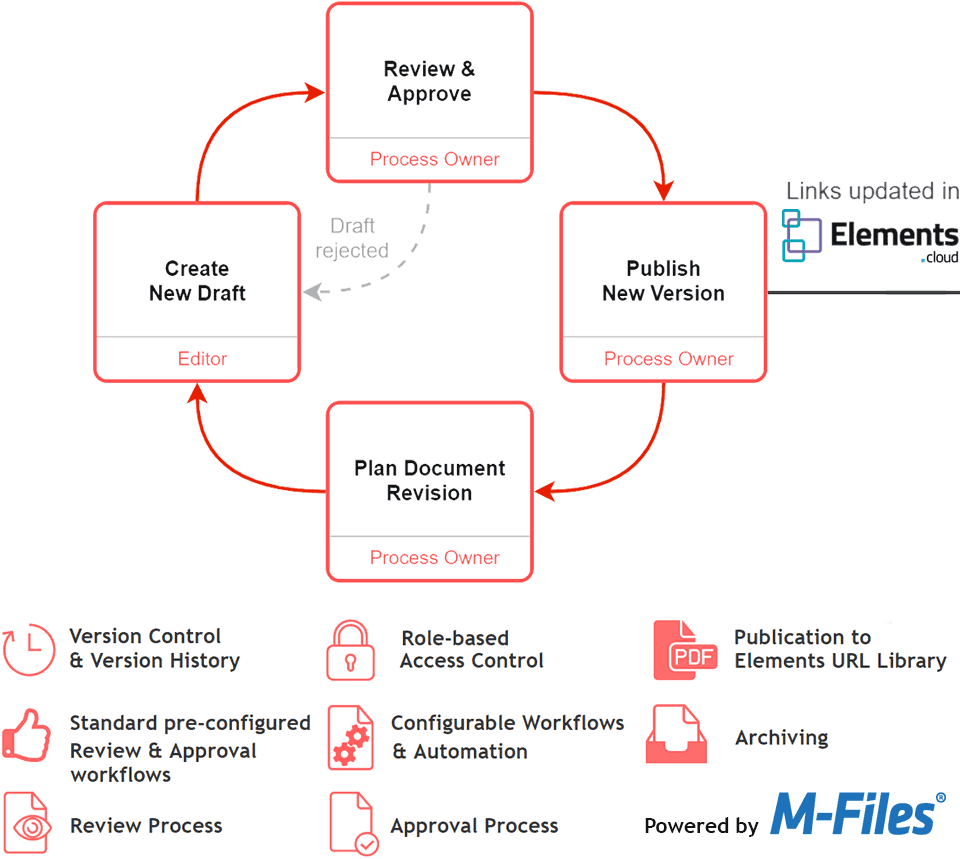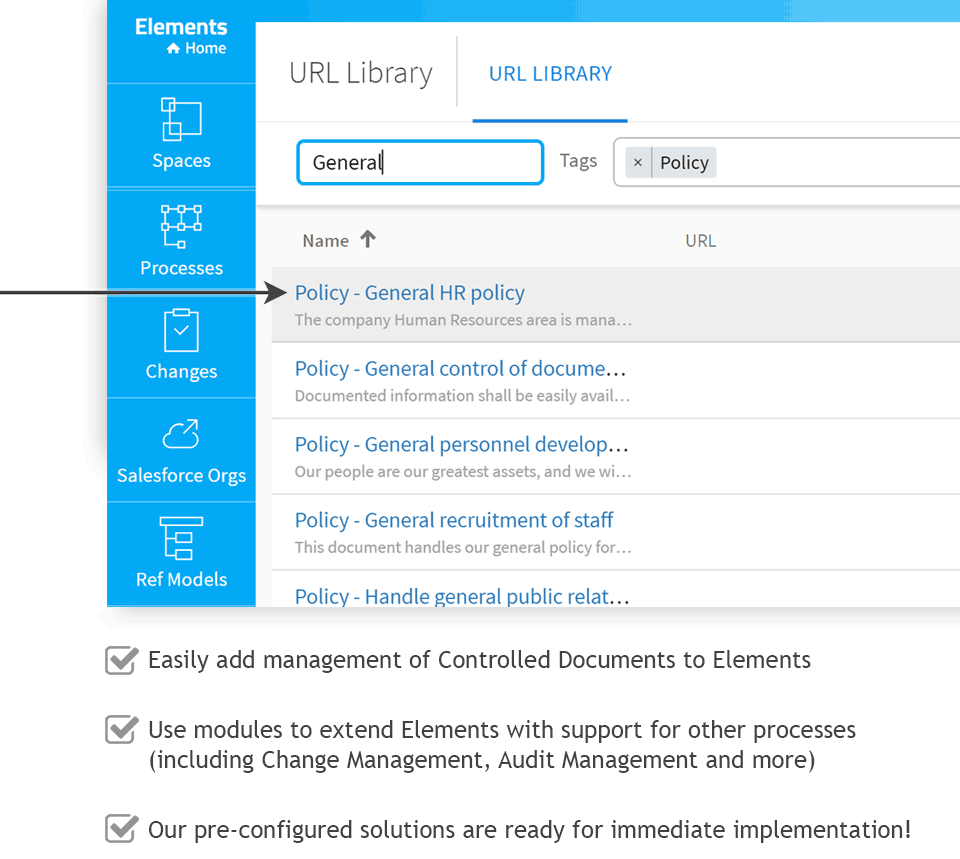 Elements.cloud is a fantastic service for analyzing your business and distributing process knowledge to your End-Users.
CtrlDocs extends Elements with equally fantastic Controlled Document Management capabilities. Our pre-configured solution can be implemented immediately to enable easy and secure collaboration on Controlled Documents.
Learn more | Book a Demo | Features
Get a Personal Demo
Let us start a conversation by booking a Personal demo based on your needs. After that we can Set Up a Trial for your team.
By submitting this form, you consent to us contacting you to oblige and follow up your request.
Features
With CtrlDocs you get a pre-configured Controlled Document Solution for Elements, with the following features:

Template Manager on Creation
Standardize your Content Creation by using the built-in Template Manager. CtrlDocs ensures your Templates are also controlled, so that you always use the proper templates to start documents.

Fast search
Immediately find the content you are working on, its related data and your active or upcoming tasks; either through dynamic Views or free search on both content and metadata. Quickly find anything you need!

Version Control & Version History
End-Users only see the correct version of their documents. You have complete control of the document versions, including a full overview of past versions and a log of all changes and document events.

Role-based Access Control
Different roles (Admin, Approver, Editor, HR Staff etc.) may have different access to content and functions – to ensure the right people find the right content, quickly.

Standard pre-configured Review & Approval workflows
Pre-configured document workflows that are ready-to-use, to ensure your Controlled Document Procedure is standardized and professional.

Configurable Workflows & Automation
You can also configure your own Workflows, if the pre-configured ones are unable to meet all of your needs. Easily add new steps and automation to the workflows, or create a new workflow from scratch.

Review Process
Review document drafts before they are sent for approval. Schedule spontaneous or recurring reviews of content. With reminders, notifications and overview of current tasks.

Approval Process
Manage Approval of documents with workflows and electronic signatures. With reminders, notifications and overview of current tasks.

Publication to Elements URL Library
Upon publication, documents Master Versions in PDF format are created and published directly to the Elements URL Library, with their appropriate tags.

Archiving
When it is time to retire a document, there is a process and workflow for that too. Archived documents are kept out of the way of ordinary use, but easy to find and searchable in the archive.


Tight 2-way integration with Elements & MS Office
CtrlDocs can interact with Elements content, for example publish documents directly to Activity Attachments and enriching Elements content with metadata and workflows. CtrlDocs Content Management features can also be integrated immediately into MS Office (Word, Outlook, etc.) and most other Windows apps.

Add functionality for Supporting Quality Processes
Add more modules to handle more processes such as Audit Management, Change Management, Knowledge Management and many more. We have several pre-configured modules and a full, modular Quality Management System: Visual QMS.
… and more! Contact us for a Personal Demo!
Manage your Controlled Documents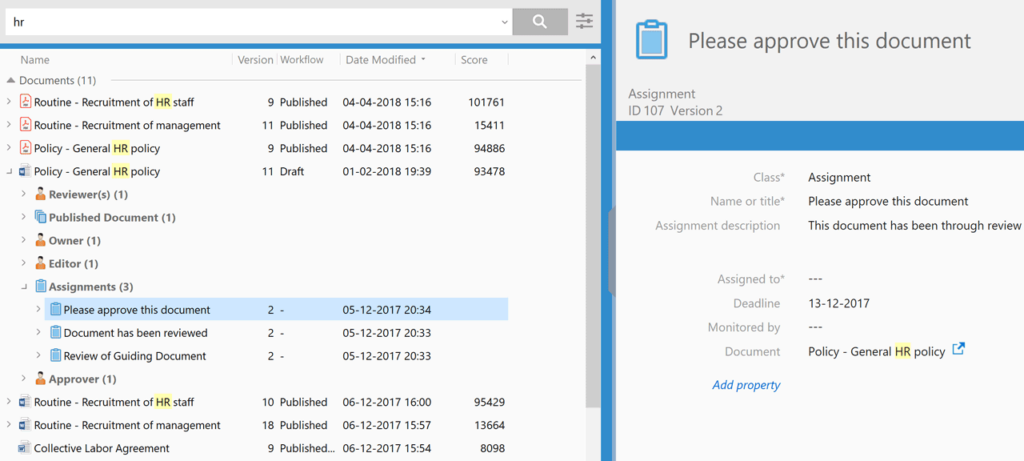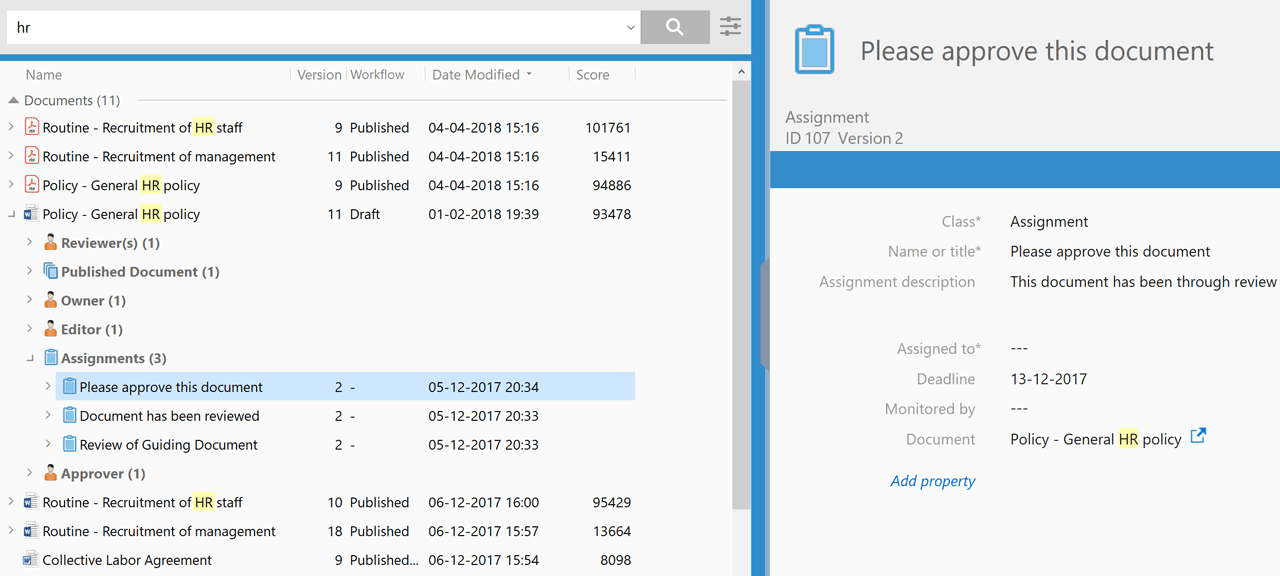 CtrlDocs for Elements gives your content Editors, Reviewers and Process Owners a place to manage documents and other data, and can fully support a professional Controlled Document Procedure.
Published documents are placed as links to PDF files in the Elements URL Library, with the appropriate tags to let your Users find them quickly; and make them available for use as Attachments on Activities and other Elements content.
End-Users can access the documents as Attachments or find them by searching the URL Library. CtrlDocs makes sure that only the correct versions are available and that new publications replace the old links.
The actual files can be placed in a storage location of your choosing (network folders, Sharepoint, Dropbox; anywhere the CtrlDocs application and your End-Users can access them), together with the appropriate tags and metadata (if applicable). When the documents are Retired and Archived in CtrlDocs, the solution ensures they are retired at other locations as well.
Immediate implementation
Our Pre-Configured solution can be implemented immediately as an affordable base package, with a minimum of 5 Document Editor seats. If you have a Elements.Cloud Pro Space, we can start discussing how to implement CtrlDocs for your company today! Contact us
More possibilities with CtrlDocs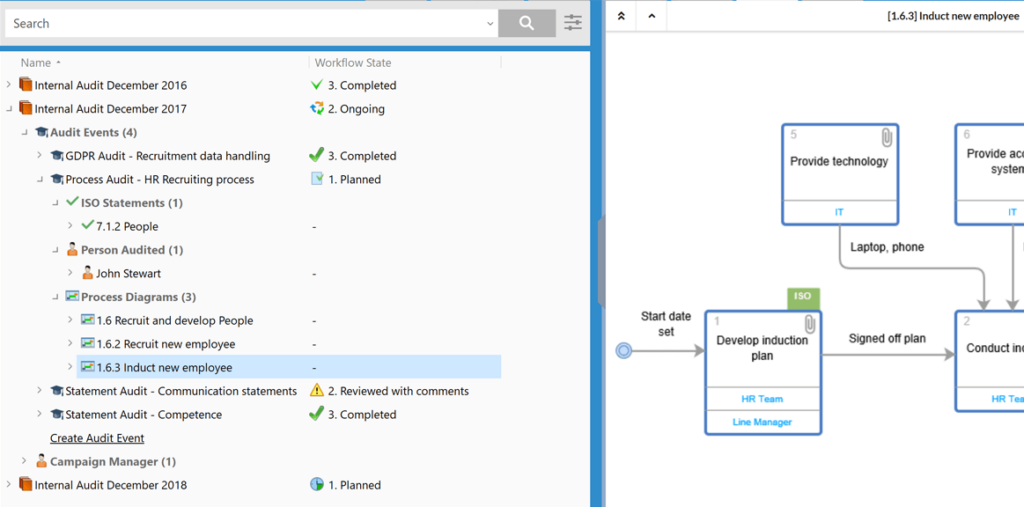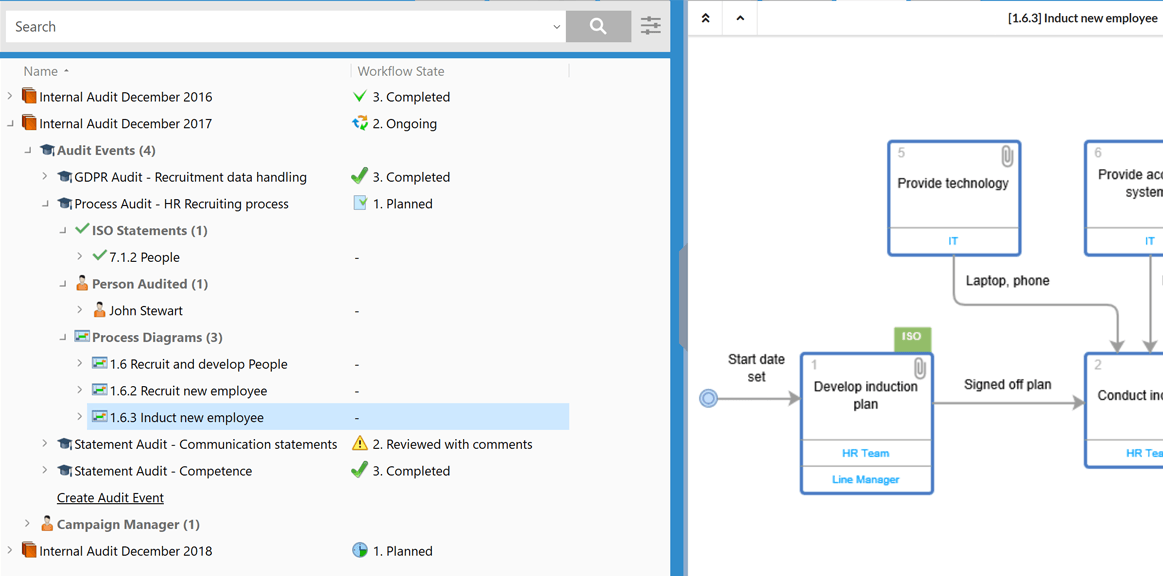 It is also possible to integrate Elements content directly into the CtrlDocs content management system, to enrich Process Diagrams, Activities, Reference Models and other content with metadata, workflows and other M-Files capabilities – including the fast and easy search.
We have many pre-configured modules that you can add on to benefit from this combination, for example to handle Changes and Audits of Process Diagrams, Controlled Documents and Reference Models (ISO requirements, etc.) in a standardized way with workflows in CtrlDocs.
We have even created Visual QMS: a solution for a full, visual Quality Management System based on our pre-configured modules and Elements, which allows you to manage all Quality Management processes in an easy, modern and more affordable way.
With a deep, two-way integration CtrlDocs can also publish document links directly as attachments to selected Activities and other Elements content – allowing your to mass-update the attachments and other properties of multiple Process Diagrams and Activities (even with Automation) from within CtrlDocs.
Powered by
We use a leading standard solution called M-Files to power CtrlDocs. M-Files is recognized in the Gartner Magic Quadrant, Nucleus Research Value Matrix and other reports on Content Management Services as a leader of innovation, ease-of-use and ease-of-configuration.
Our pre-configured M-Files solutions give the document Editors a stable and user-friendly place to collaborate in. While M-Files is also an excellent user-interface for End Users, you can publish and host your documents where ever you want to ensure your End Users have access.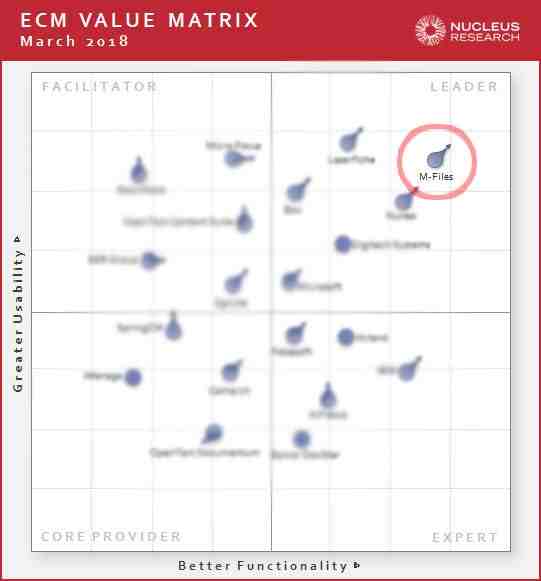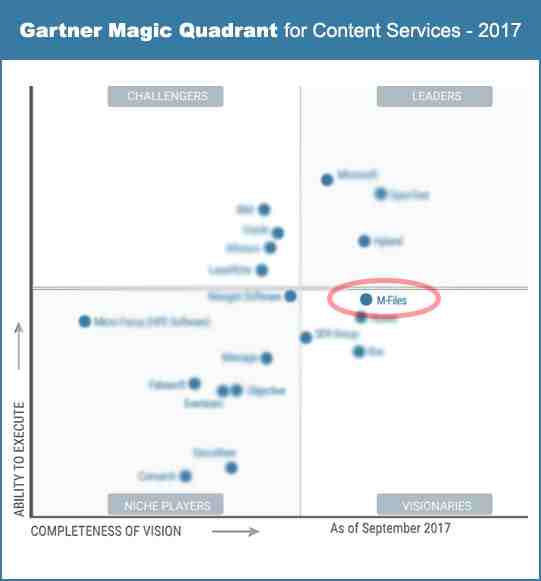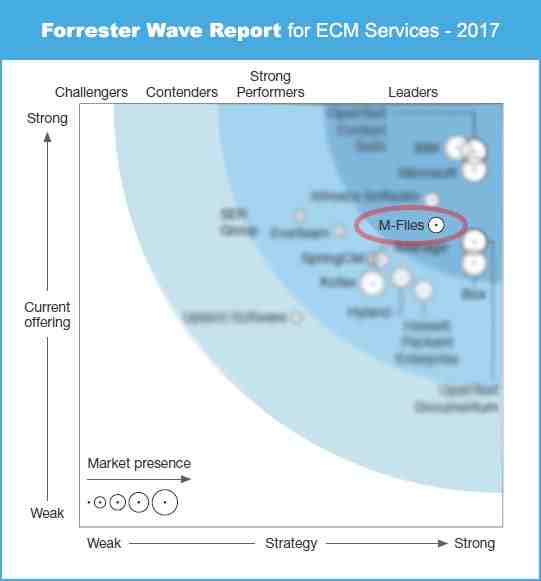 ---
Get in contact
e-mail: [email protected]
phone: +45 32 74 65 44
We would be happy to to discuss your needs, schedule a demo and/or set up a trial version for you.
Please read our Privacy Policy for more info.
Ctrldocs ApS | Høyrups Alle 26, 2900 Hellerup, Denmark | CVR 28123981