The Ultimate User Interface
M-Files
M-Files is an excellent system for managing documents, projects, and other objects. It allows users to link everything together and see information how they want. However, it struggles to create an easy-to-understand interface for users, analytics, and dashboards that aggregate information.
Portals by CtrlDocs aims to solve this issue, bringing the big picture up front and center with extensive dashboards for project managers, metrics and information for salespeople, and a beautiful interface that anyone can navigate on any screen size.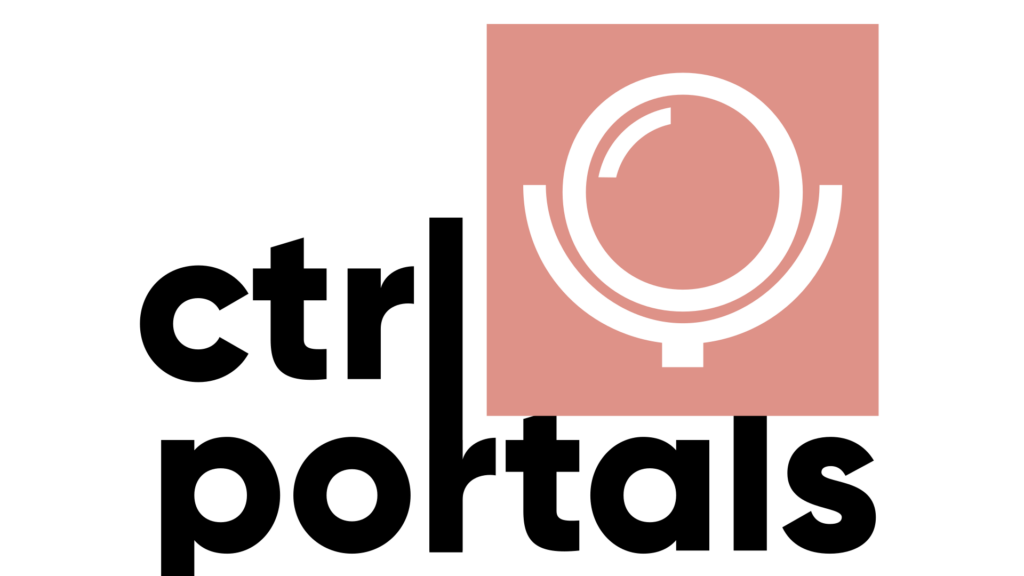 Portals comes with various features that can be combined in numerous ways. At the core of Portals is a responsive grid layout that adapts to fit any window size. Each area in the grid begins with a Segment, in which you can define a width and style and add any number of widgets. You can also break down each Segment into tabbed menus, allowing you to organize specific widgets and data and add even more content to Portals without overwhelming users.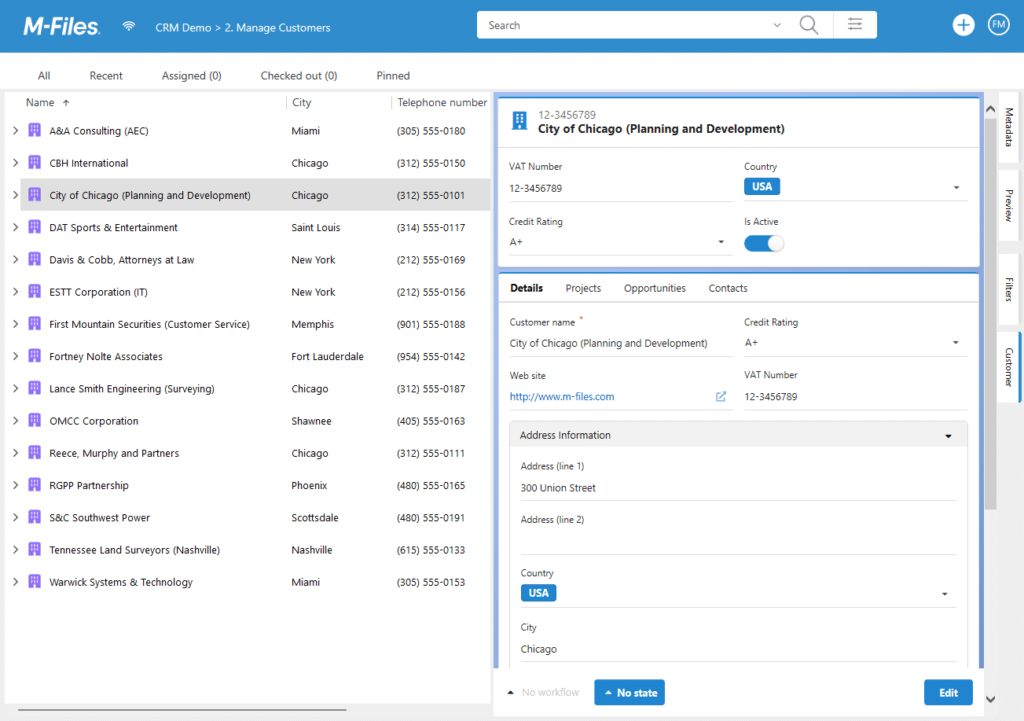 Editable Forms With Multi-Column Support
Forms in Portals are an essential component that enables users to view and modify any metadata associated with objects in M-Files. You can combine metadata into multiple columns and collapsible groups, allowing you to create the metadata card you've always wanted.
Lookup and Multi-Lookup properties have also been significantly improved. Users can now click on values and choose to open files, metadata cards, or even other portals directly from the metadata card within Portals. Editing and searching for Lookup values is also much easier with automatic wildcard searching, enabling users to find "CtrlPortals" regardless of whether they type "CtrlPortals", "Portals", or "Ortals" in the search box.

HTML Enriched With Your Metadata
One of the most powerful features of Portals is the HTML component. With it, you can create custom buttons, embed YouTube videos, or provide clear instructions for training objects. Moreover, you can enhance your HTML with metadata from your M-Files objects, putting your data to work in ways you've never imagined before.
Portals provides special JavaScript functions that make it easy to open documents or related objects from buttons or to display associated images. With this powerful combination of HTML and metadata, you can create custom buttons that operate on M-Files objects, allowing users to interact with your data in new and exciting ways. Using Portals' HTML module with metadata, you can create a powerful custom module that can help you achieve your goals in previously impossible ways.
Obtain A Better M-Files Overview with Views
When demonstrating M-Files as a CRM system, people often comment, "That doesn't look like a CRM system; it looks like a file system." Browsing complex relationships between customers, deals, and opportunities can take time and effort. However, with Portals and Views, you can browse related objects from one convenient table format.
Each View is based on an actual M-Files view, meaning columns, sorting, and search conditions carry over to Portals. Additionally, Views come equipped with a robust search pane feature, similar to search facets in M-Files. This feature allows users to filter data down to see exactly what they need quickly. Once users have filtered the data, they can even export the values and columns to their clipboard or Excel for further analysis.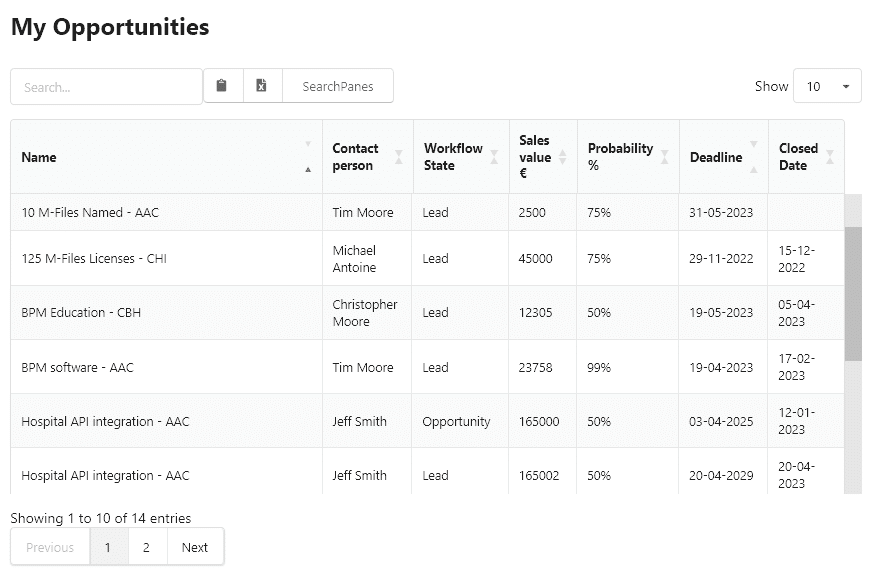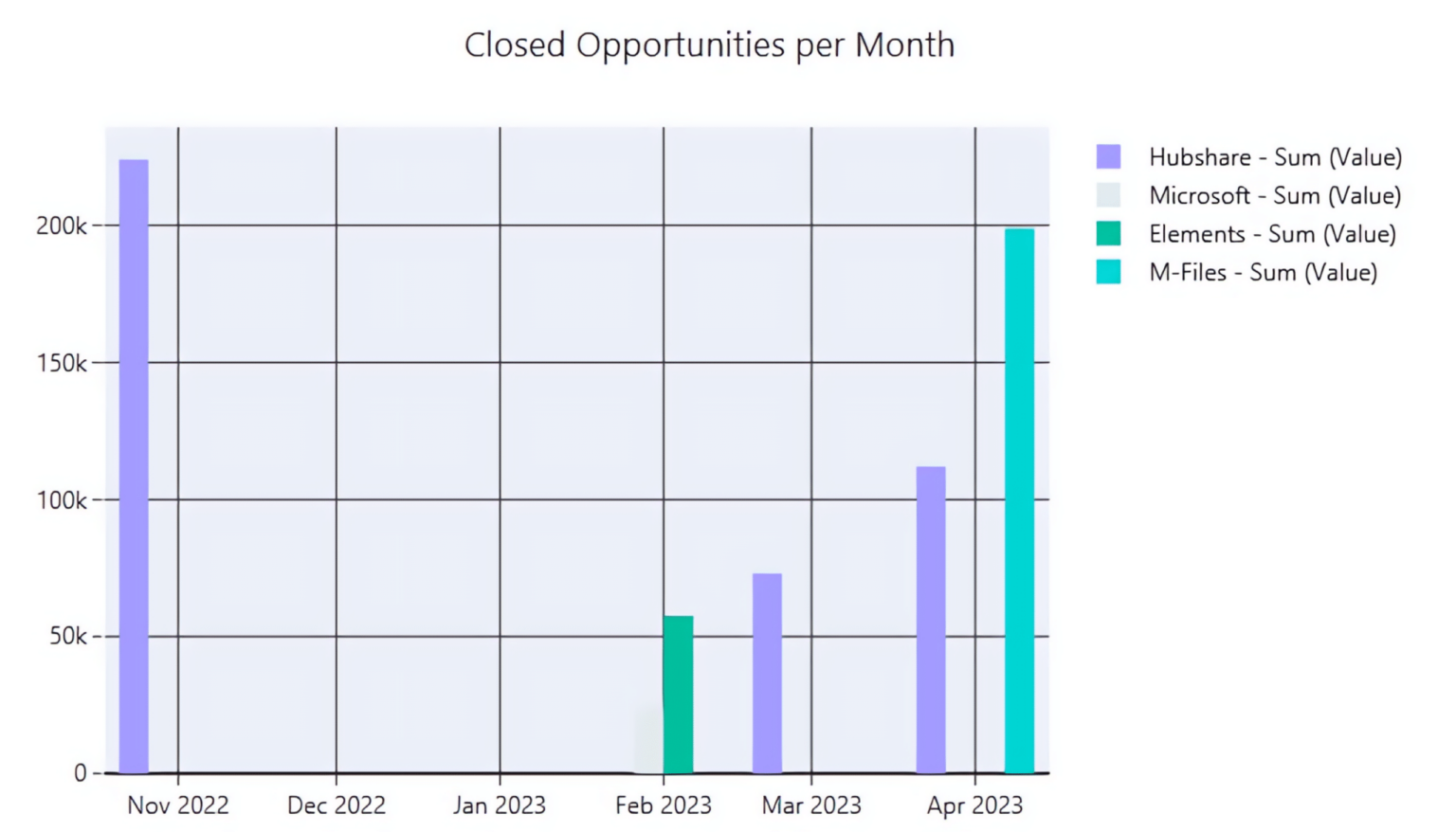 Create Extensive Dashboards with Metrics
Metrics are critical to monitoring how your business performs at a glance by providing easily digestible visualizations. At CtrlDocs, we understand that metrics are more than just pretty graphs, bars, and circle charts. Our metrics module is designed to provide real-time insights into your M-Files data without requiring the M-Files Reporting Server or any additional components.
We provide various visualization options, including pie charts and graphs, which are customizable to suit most needs. Whether you need to track sales performance, monitor project progress, or analyze operational metrics, our metrics module can help you achieve your goals.
Extended Comments With Replies
Extended Comments in Portals enable users to mention other users, reply to and edit messages, and view all comments in a threaded feed. When a user responds to a comment, the recipient is automatically notified, facilitating more efficient communication. Additionally, by maintaining comments as objects in M-Files, users can get a feed of all comments created across all objects. Finally, each comment created during a workflow state transition is marked with a visible flag, making it easy to identify any comments made when a user requests a review or approval.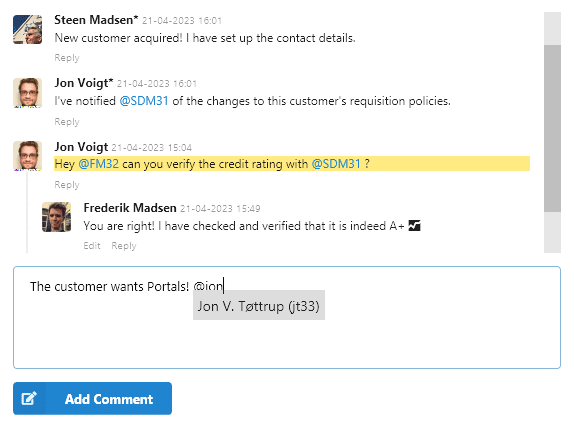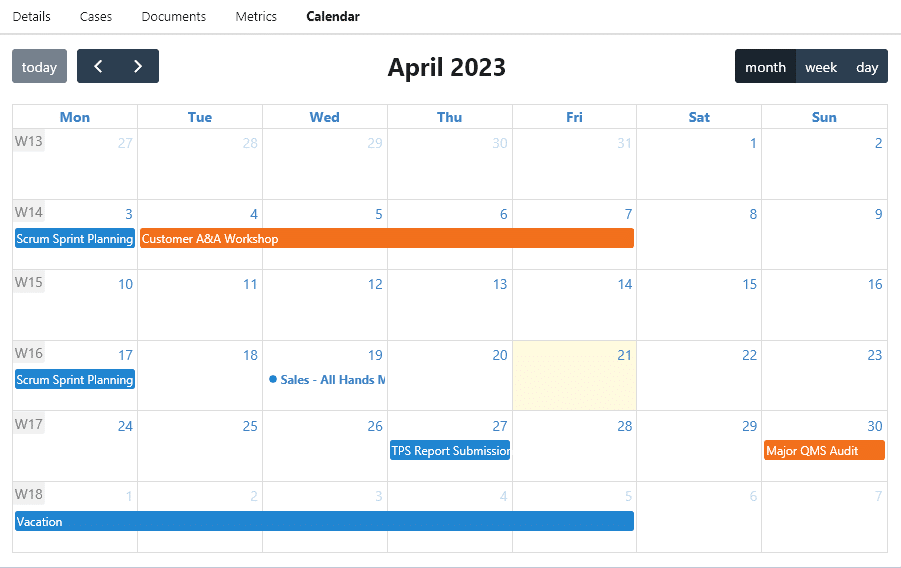 Calendar To Display And Plan Events
The Calendar component in Portals offers a simple yet powerful way to manage and visualize time-sensitive information. It presents objects from M-Files, including time registration records, audit events, or birthdays, in a convenient calendar format. Users can drag and drop events from the interface and create new events directly inside Portals. By displaying objects from M-Files, the Calendar component provides a comprehensive view of time-sensitive information, making it easy for project managers and salespeople to manage deadlines, track progress, and stay on top of appointments.
Knowledge Bases With Markdown
Creating complex and connected knowledge bases in M-Files is a breeze with the Markdown component in Portals. An attached file with the .md extension is automatically rendered in the interface along with any attached images, code, or YouTube embeds; you name it. Portals using the Markdown component can even link to each other, making navigating and maintaining extensive collections of KB articles and FAQs easy.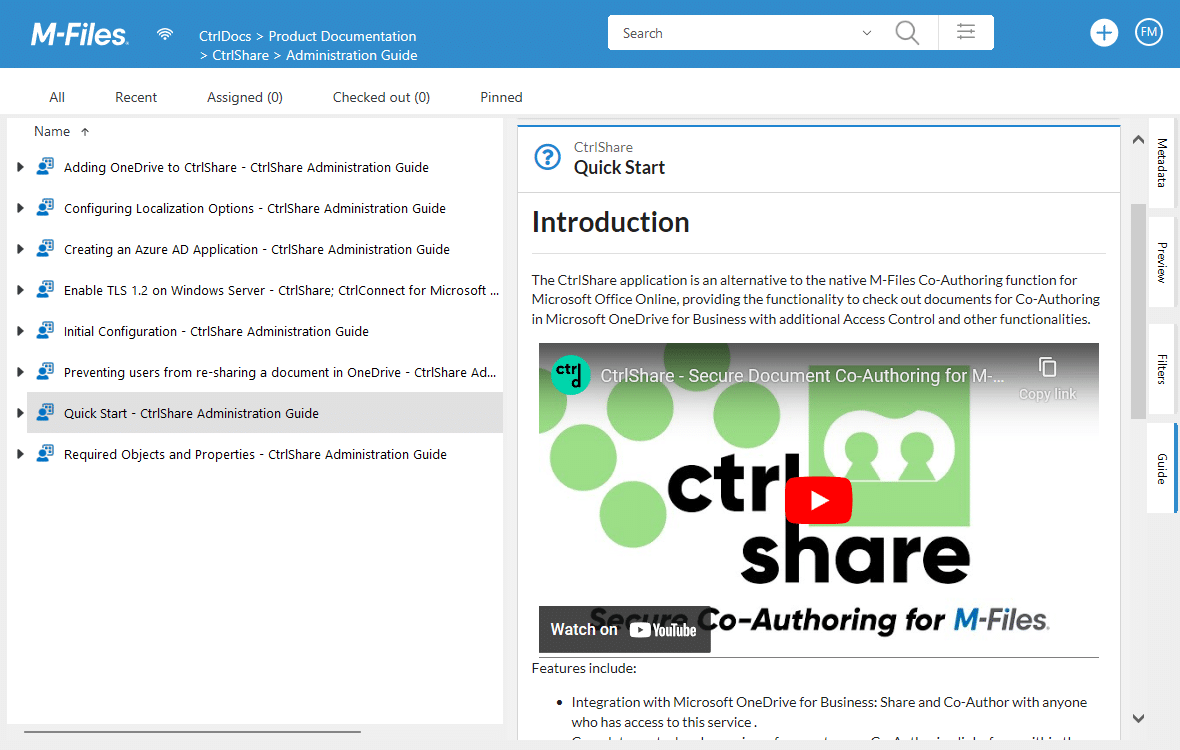 M-Files users can use Portals' benefits to enhance their workflow. The responsive grid layout allows for easy customization and organization of data, while List Views and Metrics provide valuable insights into performance and progress. The Extended Comments feature can improve communication and collaboration between team members, and the Markdown component simplifies the creation of knowledge bases and FAQs. The Calendar component can help users stay on top of important deadlines and appointments. Portals can optimize M-Files' functionality, making it easier for users and administrators to manage projects, clients, and other objects.
Portals can significantly improve the functionality of M-Files as a CRM system. With List Views, users can browse complex relationships between customers, deals, and opportunities in a convenient table format, making it easier to manage customer relationships. In addition, Metrics can provide valuable insights into sales performance, allowing salespeople to track their progress and make informed decisions. Extended Comments also enable efficient communication between team members, ensuring everyone is on the same page regarding customer information.
Portals is also an excellent tool for project management. The responsive grid layout allows project managers to see the big picture, with extensive dashboards that provide an overview of project progress. List Views enable users to browse related objects and track progress, while Metrics provide valuable project performance insights. Markdown makes creating knowledge bases and FAQs easy, ensuring that team members can access the information they need to complete projects successfully.
Finally, Portals can also be used to improve professional services. With Metrics, users can track performance and analyze operational metrics, making it easier to identify areas for improvement. List Views and Editable Forms also enable users to manage client information more efficiently, while the Calendar component makes it easy to keep track of deadlines and appointments. The markdown component can also be used to create knowledge bases and FAQs, ensuring that team members can access the information they need to provide high-quality services to clients.
Portals is a highly versatile tool with many applications across many industries. Some potential use cases include:
Managing customer relationships in a sales or marketing department
Tracking project progress and performance in a project management role
Streamlining HR processes such as onboarding and performance management
Creating knowledge bases or FAQs for internal or external use
These are just a few examples of how Portals can improve productivity and efficiency and elevate your M-Files installation to new heights.
In conclusion, Portals by CtrlDocs is an essential tool for anyone using M-Files. It provides a range of features that enhance M-Files' functionality, including List Views, Metrics, and Editable Forms, making it easier to manage customer relationships, track project progress, and provide professional services to clients. The Markdown component and Extended Comments feature offer additional benefits, such as creating knowledge bases and improved communication and collaboration between team members. With its customizable dashboards and comprehensive calendar feature, Portals is a highly versatile tool that can be used across many industries. By providing real-time insights into your M-Files data, Portals can help you achieve your goals and improve productivity and efficiency in the workplace.
Ready to See and Test Our Solutions for Real?
The best way to really understand what a solution is about is to see it in action for yourself. We will do our best to understand your business needs, demonstrate relevant solutions and help set up a demo environment so that you can try for yourself.