Visual QMS (Quality Management System)
Get a Personal Demo | Learn more | Features | Contact us
Visual QMS is available for immediate implementation as a Pre-Configured Cloud Solution for Quality Assurance, with support for Business Process Management, Document Control and much more. Visual QMS can also be extended with modules to provide elegant solutions to most Quality and Compliance related challenges – while allowing you to scale the system to your needs.
Based on our experiences implementing Quality Management Systems and other management solutions at some of the leading Nordic companies and franchises, we have developed a new solution together with our customers to support their quality processes and compliance requirements in a more modern and affordable way. This system is scalable to the size and needs of the organization: including flexible Cloud/On-Premise implementation, modern data and software integration possibilities, security, ease-of-use and high scalability of functionality and user-pools.
Get a Personal Demo | Learn more | Features | Contact us
---
A Powerful, Pre-Configured Quality Management System
Visual QMS manages Total Quality and allows you to see the Quality Management System from different perspectives: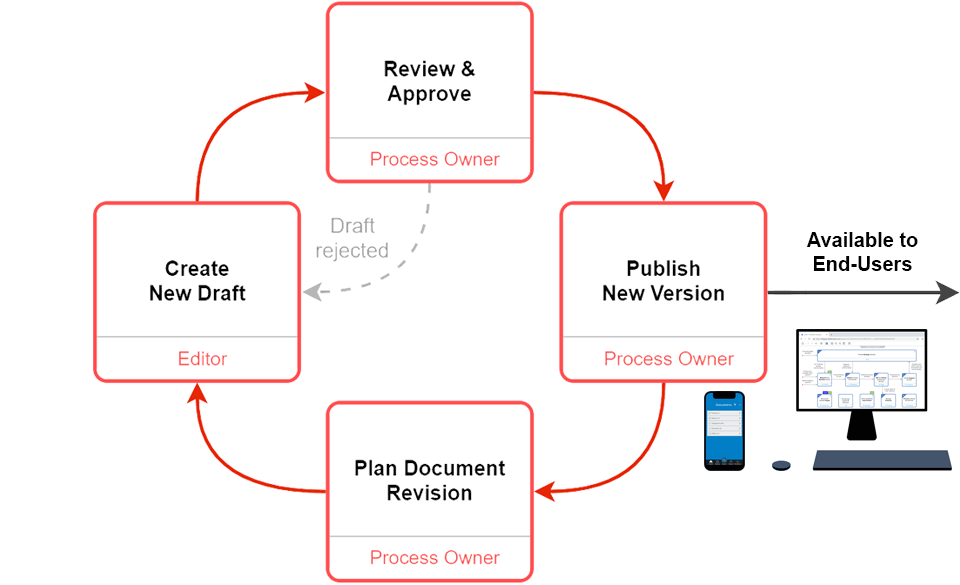 Controlled Document Management
Documents and other guiding contents are crucial to a Quality Management System, often the main guidance to assure your people comply with the Quality standards. There needs to be a way to easily retrieve them (preferably in the right contexts) and to collaborate around changes in a controlled manner.
Plan, Create and Manage all your Quality content with pre-configured (or custom) workflows, smart distribution and fast search functions. Build relationships between different content, processes and user roles to greatly add value to your QMS. Store and deliver approved content where your Users need it, in the right context for their specific roles. With Web and Mobile access!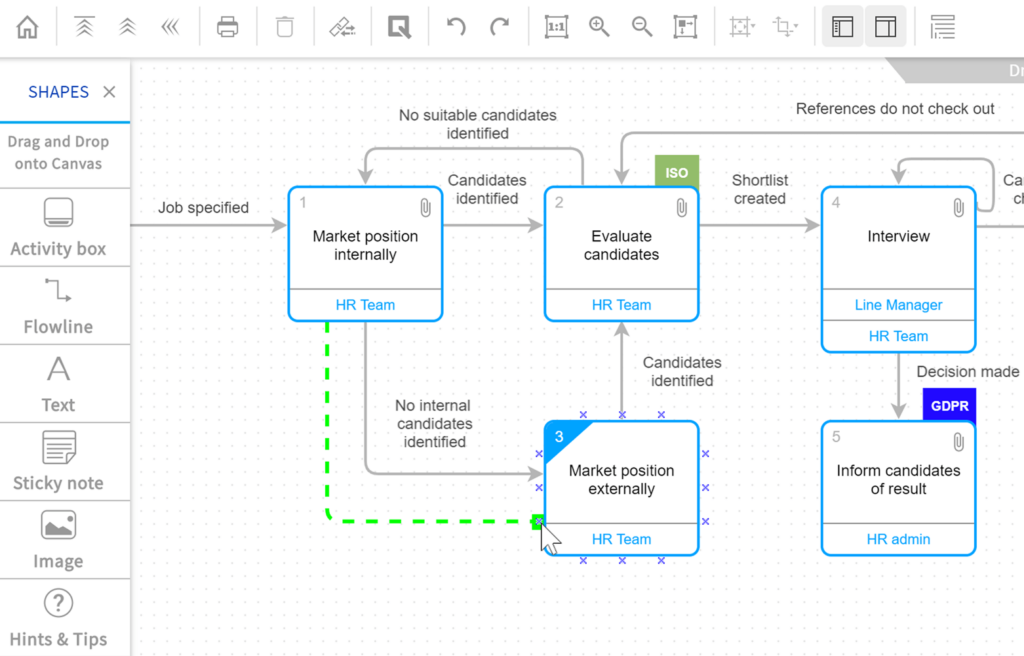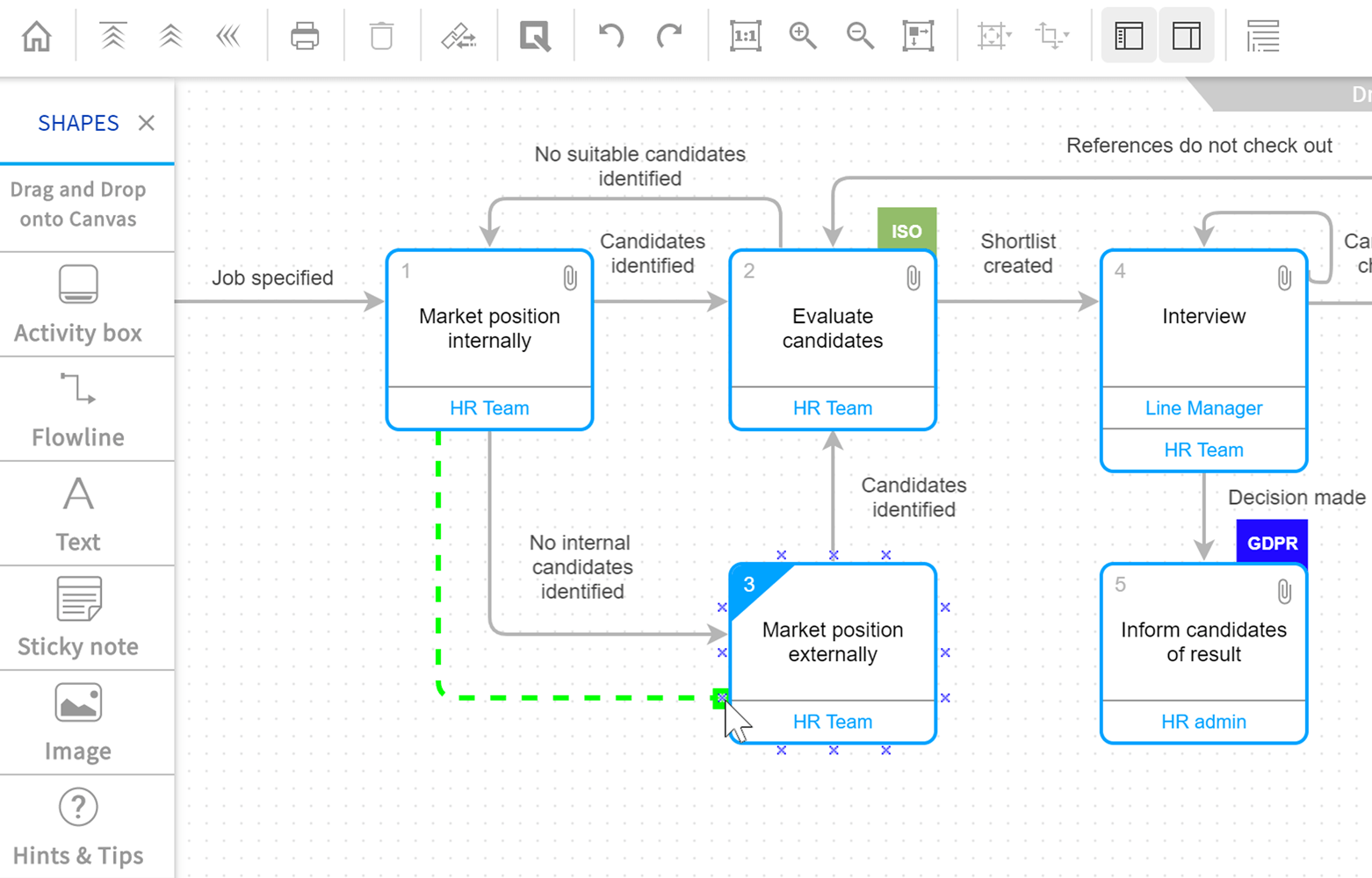 Communicate your Business Processes Visually
Process documentation is a key activity of Quality Management and can be useful to help your people always do the right thing – at the right time. Ideally, these processes can be hubs of information that are accessed on a daily basis, kept up-to-date behind the scenes and hold links to relevant guiding content such as detailed instructions, policies, video guides, etc. In order to ensure process coverage for all the standards, regulations and goals you strive to comply with, the processes should also be connected to their relevant compliance statements and Key Performance indicating metrics.
The best and easiest way we've found to ensure people know how to consistently succeed with a process (and comply with the relevant quality standards) is to create a visual and hierarchical company manual, showing the work activities both as part of the big picture and in a more detailed view. We also include links to relevant guiding documents and videos. This way, your people will always know where they are in a process, what to do next and how to do it properly. With Visual QMS, you can easily start drawing and distributing elegant, Easy-to-Follow process maps to provide employees with a continuously updated, Online Manual for their work.

Manage Supporting Quality Processes
There are several processes that support a Quality Management System – such as Internal and External Audits, Management Reviews, Risk Management, Continuous improvement, etc. – to ensure it can keep fulfilling its purpose.
Visual QMS provides workflows and collaboration for Quality Processes such as Audits & Change Management: with logs, workflows, advanced access control and more. Delegate and ensure completion of important tasks: with scheduling, notifications and reminders. Easily get an overview of actionable data from each supporting activity; for use in CAPA, Improvements, Management Reviews and more. Visual QMS comes with support for the fundamental Quality Assurance processes. More can be added through our Extension Modules.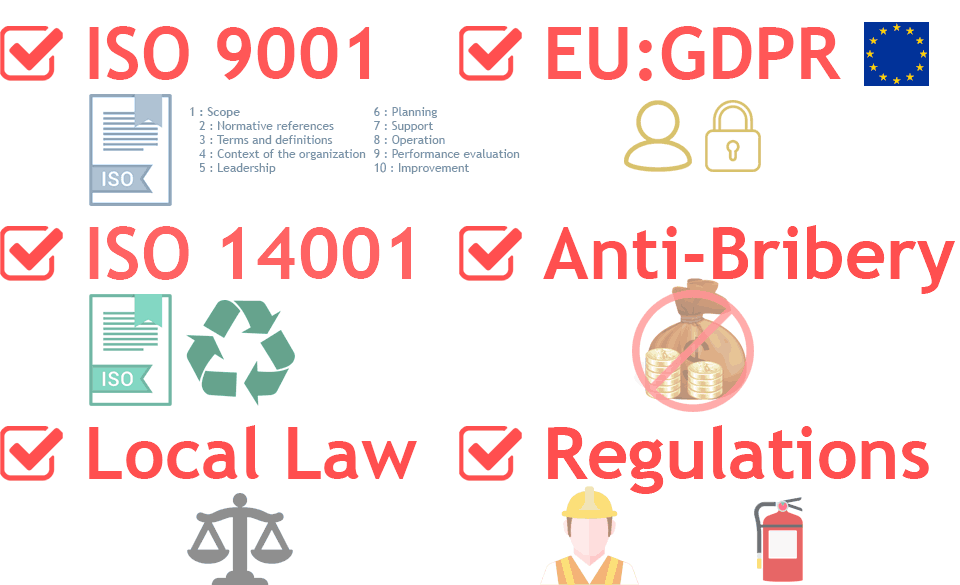 Bring life to your Compliance Requirements
Visual QMS doesn't just keep track of your regulatory statements (such as ISO 9001, ISO 14001, GDPR, Bribery Acts etc.) – Visual QMS makes your compliance requirements come alive in the visual quality manual. Easily ensure that your key requirements are properly supported by your processes and other QMS content. Monitor compliance with actionable data and insights that make the Quality Manager's job easier – and that keep upper management updated and engaged!
Get a Personal Demo
Let us start a conversation by booking a Personal demo based on your needs. After that we can Set Up a Trial for your team.
By submitting this form, you consent to us contacting you to oblige and follow up your request.
Visit VisualQMS.com for more information & a Live Demo
Standard Features
With Visual QMS you get a pre-configured solution with the following features:

Template Manager on Creation
Standardize your Content Creation by using the built-in Template Manager. The solution ensures your Templates are also controlled, so that you always use the proper Templates to start your documents.

Fast search
Immediately find the content you are working on, its related data and your active or upcoming tasks; either through dynamic Views or free search on both content and metadata. Quickly find anything you need!

Version Control & Version History
End-Users only see the correct version of their documents and other content. You have complete control of the document versions, including a full overview of past versions and a log of all changes and document events.

Role-based Access Control
Different roles (Admin, Approver, Editor, HR Staff etc.) may have different access to content and functions – both for security reasons and to promote the right content to the right people!

Standard pre-configured Review & Approval workflows
Pre-configured document workflows that are ready-to-use, to ensure your Controlled Document Procedure is standardized and professional.

Configurable Workflows & Automation
You can also configure your own Workflows, if the pre-configured ones are unable to meet all of your needs. Easily add new steps and automation to the workflows, or create a new workflow from scratch.

Review Process
Review content drafts before they are sent for approval. Schedule spontaneous or recurring reviews of content. With reminders, notifications and overview of current tasks.

Approval Process
Manage Approval of content with workflows and electronic signatures. With reminders, notifications and overview of current tasks.

Publication to PDF
You can set up how to save Master versions of your documents. The Default setting is to publish them as PDF files. Store them within Visual QMS or wherever your End-Users need them (Sharepoint, etc.)

Archiving
When it is time to retire a piece of QMS content, there is a process and workflow for that too. Archived content is kept out of the way of ordinary use, but remains easy to find and searchable in the archive.

Tight integration with MS Office & other apps
The Content Management features can be integrated immediately into MS Office (Word, Outlook, etc.) and most other Windows apps. These integrations allow you to retrieve and check in/out your content to work from most apps; and also to save files immediately into your secure storage from your apps.

Add functionality for Supporting Quality Processes
Add more modules to handle more processes such as Audit Management, Change Management, Knowledge Management and many more. We have several pre-configured modules – including Business Processes that fall between system support of conventional QMS and Business Systems.
… and more! Contact us for a Personal Demo!
---
A useful QMS, no matter how you look at it
Visual QMS allows you to view your Quality Management System in a context that makes sense to you, no matter which lens you prefer.
We have come across 4 distinct perspectives from which Quality Professionals prefer to build, navigate and understand their Compliance and Quality Management Systems: 1) from lens of the listed Compliance Requirements (ISO, GDPR etc.), linking the statements to relevant supporting content to ensure compliance; 2) from the Business Process perspective, promoting the process documentation as the main source of knowledge for the company; 3) focusing on diligent management of the Supporting Quality Processes (such as Training, Audits, CAPA etc.); and finally 4), through careful promotion of Documents, Videos and other Guiding Content – easily found and delivered to the right people, at the right time.
All of these perspectives have their advantages and limitations. But when used together, they each create synergistic effects that greatly increase the value of the QMS. Which is why Visual QMS facilitates all of them through its 4 Core modules.You can view your content based on the ISO 9001 requirements, to see which ISO statements have support in your processes and documents. Or, use the processes as the guiding context: to find all the documents and ISO content in relation to process activities. You can also just perform a content search, on all or specific content types (such as guiding documents, process diagrams or audit data, etc.), and find them together with their relevant relationships and supporting data in the search results.
Built to harness Synergistic effects
The contents of the different modules are connected to provide synergistic value to the company, and are shown to the right people in the right context through a user-friendly interface. As a complement to our 4 basic modules, with features that cover the core QMS processes, you can extend your solution with more pre-configured modules to support more processes – based on your specific needs.
All Visual QMS modules can relatively quickly be filled with your organization's content and processes, using our Immediate Implementation Methodology. Our Extension Modules allow you to add features and process support as needed. Learn more about our Modules
Access our Live Demo of Visual QMS and its basic Modules, or contact us to discuss setting up a trial based on your specific needs.
---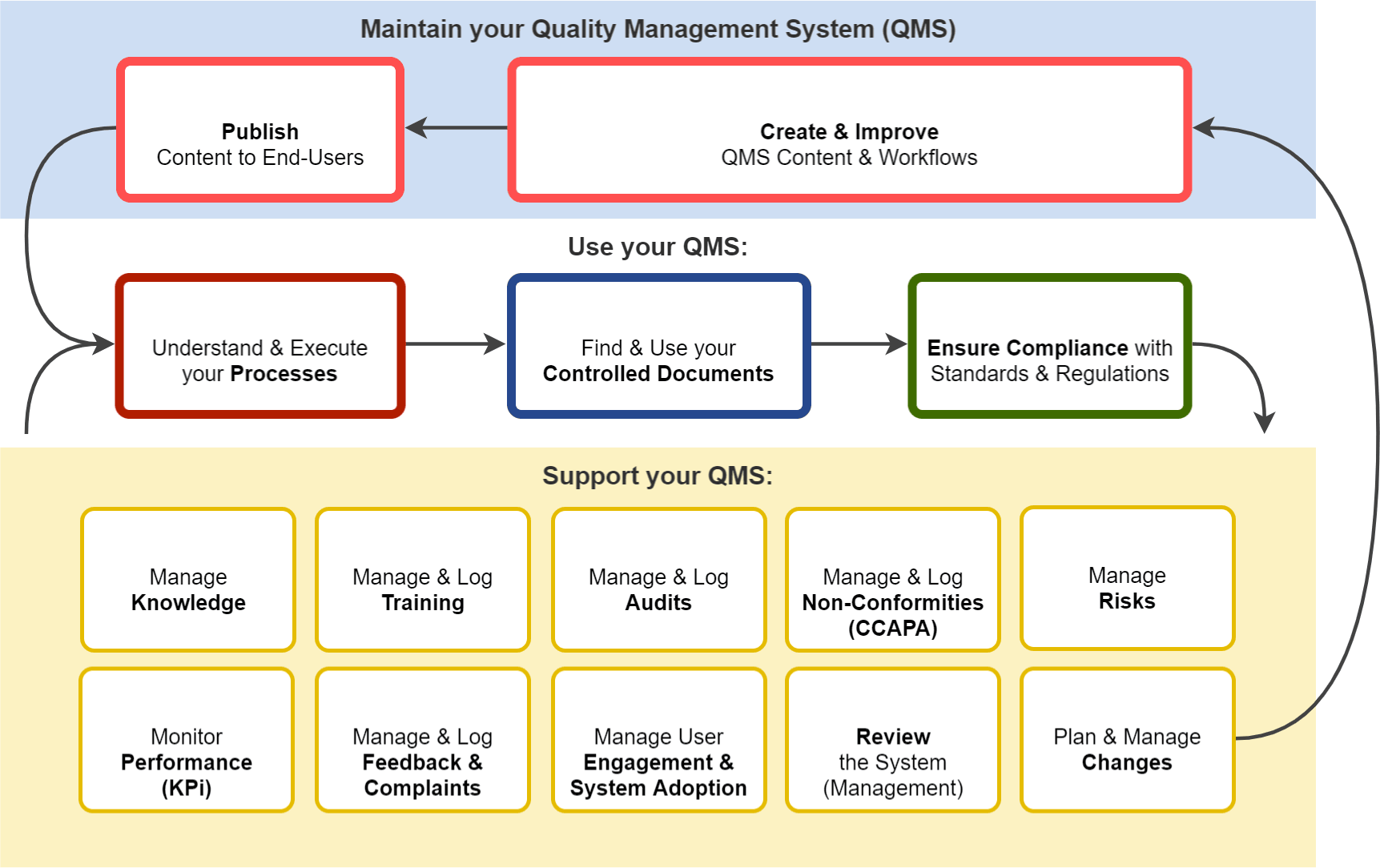 Also available as a Made-to-Measure Solution – with your choice of pre-configured modules!
All our modules work in synergy, creating relationships to increase the value of each component exponentially. The more modules, the greater the synergy. But you can scale the solution freely depending on your needs.
In the case of solution overlap, we may be able to make a smaller integration of a module, for example to just show some data from other systems.
Contact us to get a personal demonstration of Visual QMS!
---
The 4 Core Processes of Visual QMS:
1. Visual Process Documentation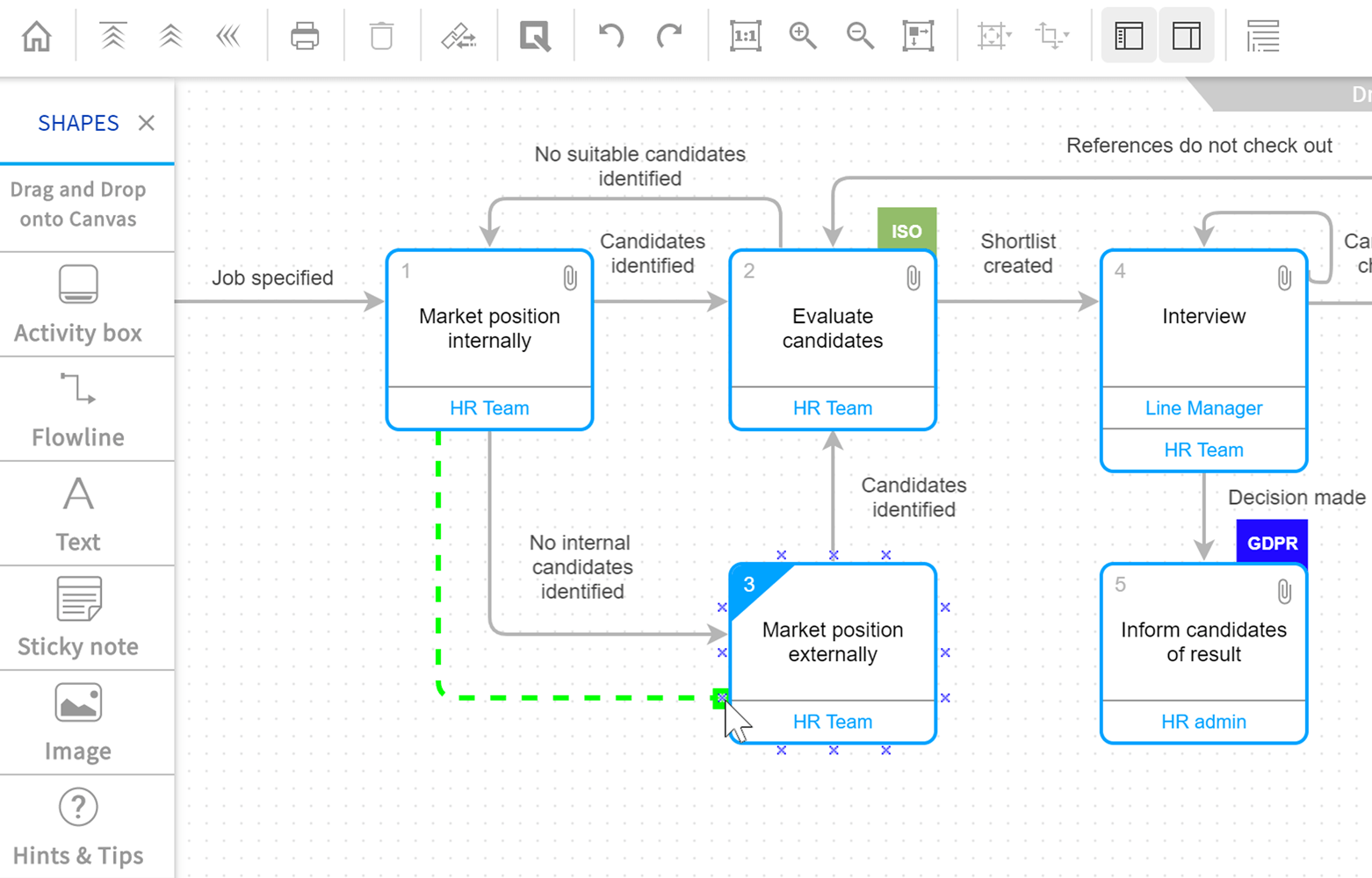 Draw your processes with easy web tools, creating easy-to-follow maps for the End-Users to navigate – with workflows and guidance to ensure proper execution.
Create an online, interactive manual for your business. Add links to relevant instructional videos, documents, policies and other guiding content. The processes are always available to the right people at the right time, and enable them to succeed with their work – while staying compliant with any rules and regulations they need to follow.
Example use-case
Q: I just got assigned to a task I've never done before, who can I ask to learn how to do it properly?

A: Just search for the task, you'll find it in the top-rated search results. Look at the process diagram and view the attached guiding content on each activity. There may even be a video tutorial for your task!
2. Controlled Documents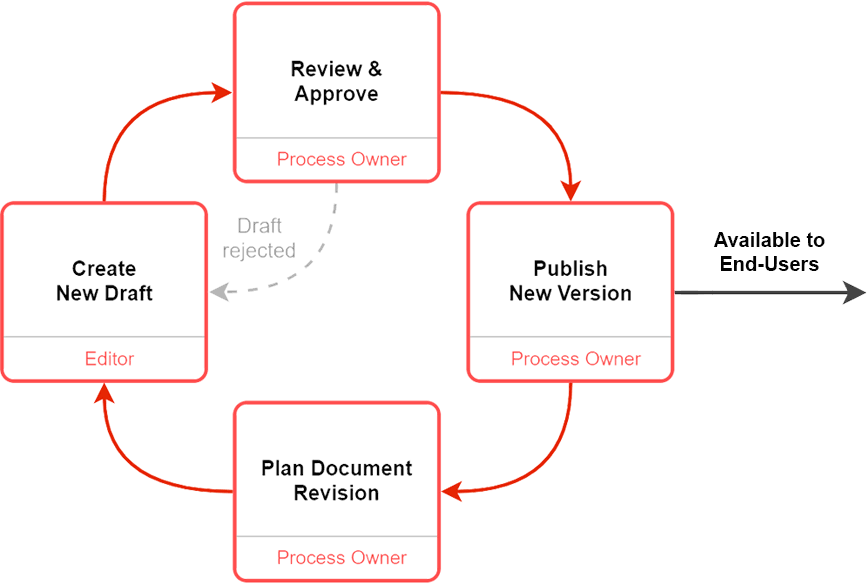 We use the leading standard solution for providing value, user-friendliness and deployment speed as our base platform for Content Management.
Easily ensure content is stored correctly, every time. Quickly find the right version of the right document, every time: even if you're not sure what you're looking for! Collaborate to improve the content with simple Change Management workflows, to ensure the End-Users only see the Correct content. Top this off with the best access control and version control in the business.
Example use-case
Q: How do I find a document, if I don't know the name? I only know which activity it's used for.

A: Just type in the info you know, hit search and look at the top results. Alternatively, navigate to the process diagram and find it there. It's always the right version, since there are no duplicates.
3. Compliance Requirements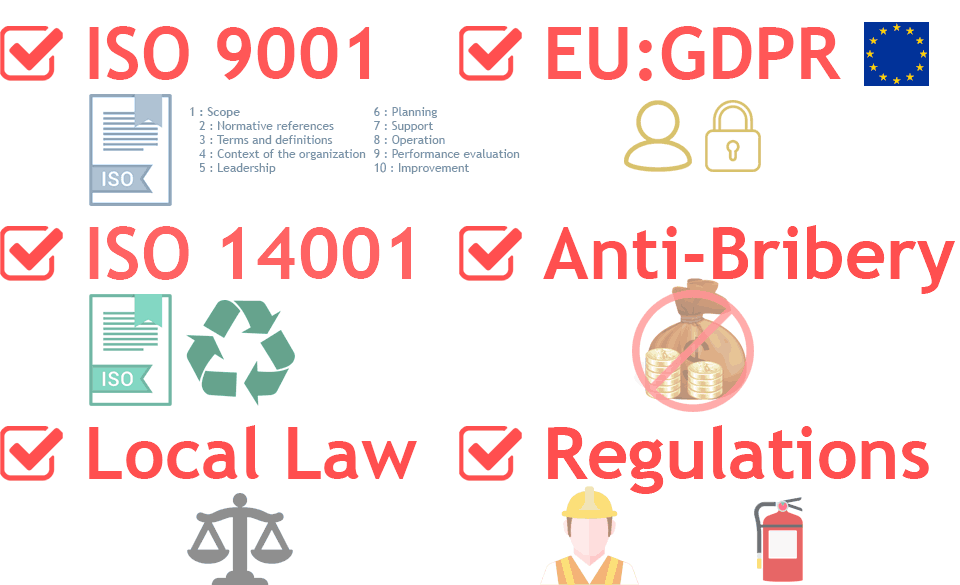 Integrate any set of regulatory statements (such as ISO standards, GDPR, Bribery Act etc.), in value-providing relationships with controlled documents and processes.
Easily manage your different compliance obligations, such as ISO 9001, ISO 14001, GDPR (or any other standards or legal as hierarchical rule sets. By creating relationships to the related content, you can easily ensure all your rules have processes, documents, workflows and other means to support them.
Example use-cases
Q: What makes you so sure that your people and processes are in compliance with requirement 7.3 from ISO 9001:2015?

A: Easy! Find the specific requirement with a quick search on all content, or by looking in the ISO section of the QMS system. Look at its related process diagrams and the attached guiding documentation. With the Audit Module, you can see how well our QMS has performed to ensure compliance. Also, in our CCAPA module you can look at the related exceptions and how we have dealt with them.

Q: What about GDPR: can you be sure that there is a standardized process in use, when treating personal data?

A: It works the same way. You can immediately find the diagrams and other guiding content related to GDPR compliance. With more modules, you can even see a log of undesired outputs – and how we have dealt with them.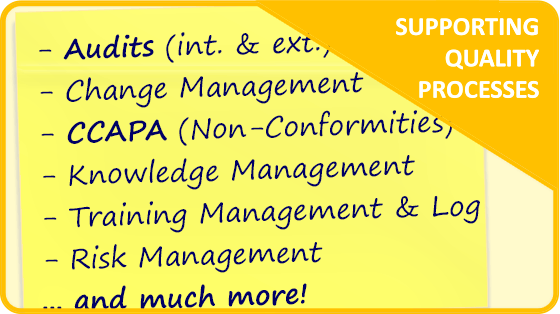 Examples of Supporting Quality Processes
Quality Management requires some supporting processes such as Change Management, Internal and External Audits, Training and Knowledge Management, Managing Non-conformities etc. These can be handled in Visual QMS based on your needs, using our Pre-configured Modules.
---
Pre-Configured, Supporting Process Modules:
Change Requests
If required, the Change Request module is an available extension for Visual QMS that will record the process of identifying a need for change, send the Change Request for budgeting and approval before it is acted on, and follow up that the change is done before the Change Request is finalized.
Audit Management & Audit Logging
Visual QMS comes with the Audit Management module, which provides an overview and workflows for scheduling, managing and overviewing Audit campaigns. This module can be extended with more functionalities, if needed.
Knowledge Management & Best Practices
An extension module for Visual QMS that makes it possible to send the document or process for evaluation with a number of people and get their feedback. Based on that, content can be sent to the Knowledge Manager for approval, so that the content can be promoted to the list of approved and recommended content.
Training Management & Training Logging
Our Training Management module is an extension for Visual QMS which makes it possible to schedule training campaigns and events, to ensure your people are trained in their relevant content from the QMS, such as processes and controlled documents (policies, instructions and guidelines). With full logging of training events.
Capture, Manage & Analyze Risks
With the basic features, you typically map your processes, their inputs and desired outputs. But what about all the undesired outputs? The Risks? Our Risk Management module extends Visual QMS to let you capture and keep track of all your unwanted process outputs and help you take action to manage them.
Manage Non-Conformities (CAPA)
When an undesired output occurs, our CAPA module helps you log it, investigate it and deal with the entire process of handling the non-conformity. This extension module allows you to capture Issues from various sources and fully manage Corrective and Preventive Actions.
Manage User Engagement & Adoption
Our Engagement Module includes workflows and reporting functions, to help you ensure that the users are making good use of the QMS and to easily find departments and QMS areas of low activity. It also includes to tools to take action to improve low activity. Features include scheduled and spontaneous User Reviews of content, Content Usage overview and reporting – as well as a course in the best practices of ensuring user adoption.
Manage Customer Complaints & Feedback
Integrate with your business systems for Customer Feedback, or log complaints and other feedback manually in our system, using our Feedback module. This allows you to connect your feedback with the relevant processes, for use in reviews and improvement of the QMS. Works in synergy with our modules for training Management, C CAPA, Risks, Perfomance and Management Reviews.
Monitor Process Performance (KPI)
Connect Visual QMS to performance indicating data from your business systems to visualize the live performance of your processes, for Process Owners, Management and others that may need access to this information. This will give you a quick status report of your company performance, as well as deliver deep knowledge about the performance of specific processes and activities, in a visual way to your screen. We also include workflows for taking action on low performance, or logging the state of high-performing processes for analysis. Useful for performance management, reviews and as a visual aid for meetings or presentations.
Capture Business Requirements
Our basic Visual QMS allows you to capture internal and external Business Requirements in the Cloud. Our Business Requirements module extends this function with a deeper integration, and synergi with the other active modules.
Conduct Management Reviews
Using actionable data from your active modules, you can use our QMS Review module for managing reporting and reviews of your quality management system and its contents. Complete with overview, workflows, scheduling to calendar and reminders. This is the perfect module to engage management and to drive improvement of the QMS. Includes workflows that can use the reviews to start improvement campaigns.
Manage GDPR, including scheduled data clean-up
EU:GDPR turned every company in the EU, and every company dealing with the EU, into a Compliance company. Luckily, our basic and affordable offer empowers your processes with several functions to handle GDPR – including ways to keep track of which processes receive or generate sensitive data. Our GDPR module also adds workflows and other functions, that help you manage and automate processes such as: centralized personal data storage, scheduled data clean-up (partially or fully automated), full log and overview of sensitive data.
All modules, workflows and other components can be further developed to more closely meet your needs and for special purposes.
Additional Modules
It is also possible to extend out QMS platform beyond generic quality management processes, and go deeper into your specific company processes – to ensure compliance and maximum ownership of your value chain to achieve Total Quality: in relation to customers, suppliers, your equipment and other assets. These are processes that require management according to ISO 9001:2015 and other standards, but are often not typically covered by Standard or even most Bespoke Solutions for QMS. Examples of our additional process modules include:
Manage suppliers
Module with functions to ensure your organization retains as much ownership of delivery as possible.
Manage Equipment
Use the system to monitor and manage equipment crucial for your business processes.
Inspections & Verifications
Manage data, tasks and scheduling related to inspections that are crucial to your processes.
Manage Job records
Every execution of a process (product realization, delivery, etc.) can be logged in the system together with useful data. Link this module with Knowledge Management, Customer Feedback, Risk Management etc. for synergistic effects.
Manage Deviations
Manage and log slight variations of processes made by design (to suit specific situations, for example different regions, customers etc.)
Manage Resources
Human Resources and other assets logged in system. Processes that have areas that lack system support can have workflows to cover those areas.
What's under the hood?
We use two Standard Solutions that are the very best at what they do, to form the platform for our Quality Management System.
Elements.Cloud

Elements is our standard solution for managing and delivering the process documentation in an easy but powerful Cloud service. Elements leans on decades of experience delivering solutions for Compliance and Quality Management to over 1.000 companies, including over 10% of the Fortune 500. It is the next step in compliance solutions: a Cloud-based service with web access to content and easy tools for mapping business processes and capturing your business requirements. Read more at Elements.Cloud
M-Files
M-Files is our standard solution for Content Management Services: with the best search tools, access control, version control, workflows and process automation on the market. M-Files is a recognized leader and innovator in Information and Content Management. It is the most advanced solution for AI assisted classification, making it faster and easier to save information while guarding against human error.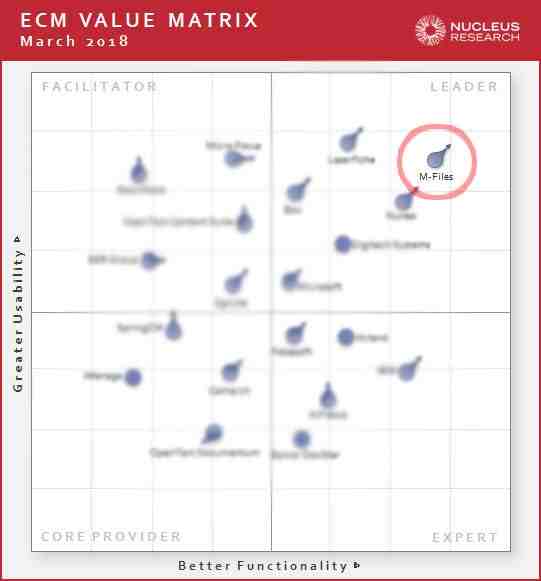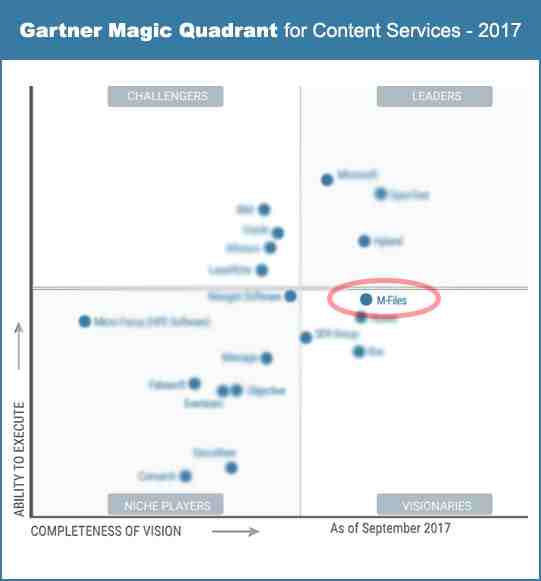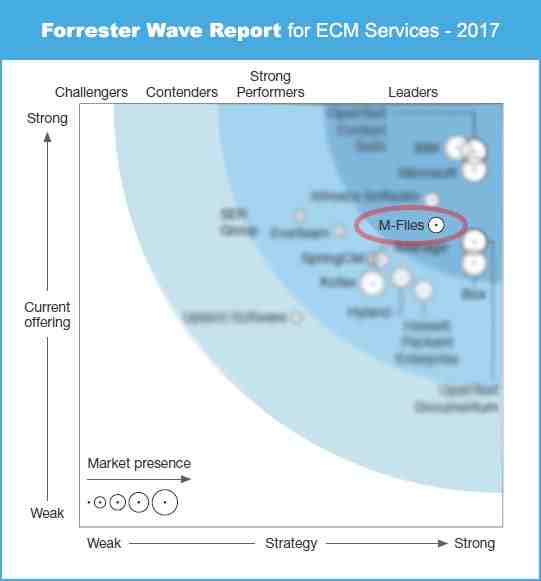 M-Files leverages intelligent metadata, easily designed but powerful workflows and artificial intelligence to give IT, software admins and End-Users a unique experience. AI assisted classification of data combined with M-Files' repository neutral way of indexing data, means a big sub-project to migrate existing content might not even be needed to start using and benefiting from M-Files. M-Files just works, and it brings your document management to the cutting edge of software innovation. Read more at M-Files.com
Combine Easy but Advanced Content Management and Business Process Management to build your Complete Quality Manual
The combination creates a unique, fully modular Quality Management System with the End-Users' daily success in focus. Available Ready-to-Use and "made-to-measure" with our pre-configured modules.
Enterprise Content Management
Visual QMS is a built on a platform that is recognized as a leader in Content Management services. While Visual QMS is developed to use this standard solution for professional Quality Management processes, it is possible for your organization to manage all content in M-Files, with the same easy storage, search and collaboration functions described. Read more about Document Management at Solution Management's website
Visit VisualQMS.com to learn more
---
Get in contact
e-mail: [email protected]
phone: +45 36 98 87 74
We would be happy to to discuss your needs, schedule a demo and/or set up a trial version for you.
Please read our Privacy Policy for more info.
Ctrldocs ApS | Høyrups Alle 26, 2900 Hellerup, Denmark | CVR 28123981