The Essence of CRM Systems
In the complex landscape of business operations, one term consistently takes center stage: Customer Relationship Management (CRM), which is the cornerstone of modern business strategy and operations.
At its core, a CRM system acts as a centralized hub for managing customer interactions, data, and relationships. It's like a digital cockpit where businesses can navigate the complexities of customer engagement, sales, and marketing.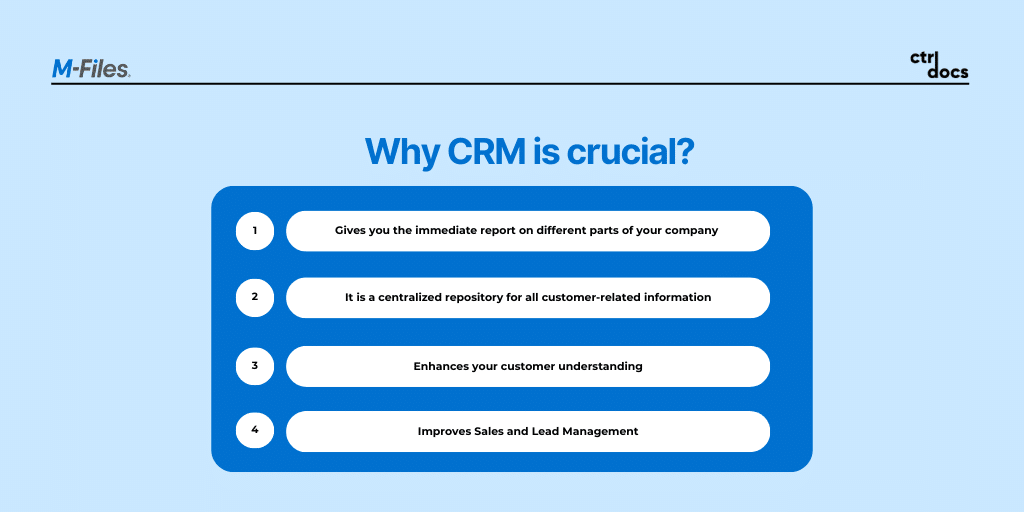 M-Files as your CRM system
The M-Files Metadata Model, enriched with advanced workflows and robust permission management capabilities, empowers you to seamlessly manage all facets of Customer Relationship Management and Sales Management.
All content, including documents, is classified with industry-leading managed metadata connecting all elements in the system. This approach allows you to access the same information through multiple views: by month, workflow state, customer, contact, opportunity, and more.
Permission management in M-Files is world-class and it is easy to enforce automatic permissions for documents and other information based on their properties or metadata.
Easy-to-use workflow features enable you to setup approval processes for proposals and other content, like managing an opportunity from Identification to Closure. These processes can be enriched with electronic signatures for better compliance tasks and more.
M-Files enforces all content to automatic version history and comes with time-stamped full audit trail. This feature ensures transparency and accountability for every action within the system.
M-Files' notification features automatically keep you informed of impending expirations. Stay on top of important dates and ensure you never miss a beat in managing your customer relationships and sales agreements.
Note that M-Files integrates perfectly with other systems and the standard CRM configuration is open for customization to your needs.
CtrlPortals is the ultimate UI for M-Files
CtrlPortals offers a transformative enhancement to M-Files, turning it into your ultimate CRM system.
It is user-friendly interface and customized features that truly unlock M-Files' full potential, enabling you to harness its capabilities like never before.
Check out our CRM Demo Presentation:
The benefits of CtrlPortals for CRM purposes
Size may define the scale, but not the ambitions of your business. CtrlPortals steps in with its rich feature set, designed to streamline operations and enhance the M-Files experience. 
CtrlPortals can empower businesses to optimize processes, automate tasks, and fortify customer interactions – creating the foundation for efficient business operations.  
Unlocking the Ultimate Control Panel to Your Business
In a world that has come to rely so heavily on digital information, the quality and availability of actionable data have become vitally important for businesses. Nonetheless, many organizations find themselves drowning in a sea of complexity.  CtrlPortals will help you to make sense of large volumes of data. It is the ultimate solution for decision-makers to stay completely up-to-date with the most relevant information.  
We offer various visualization options for creating dashboards and organizing information to facilitate faster decision-making.
Enhancing Collaboration and Accessibility
M-Files not only revolutionizes document organization through its metadata-driven approach but also offers robust Permission Management capabilities. This streamlined retrieval process can save you time and frustration, ensuring the information and documents associated with your customers are always at your fingertips.  
CtrlPortals facilitates seamless sharing and collaboration among your team members, eliminating information silos and ensuring you never miss a vital opportunity.
Prevent errors, foster collaboration, and ensure that the right people have access to the right information at the right time.
Crafting Personalized Customer Engagement

 
Effectively engaging customers stands as the backbone of any thriving business. CtrlPortals supports a suite of features, including lead management and opportunity tracking.  With these capabilities you will be able to cultivate a robust customer relationship and ultimately drive revenue growth.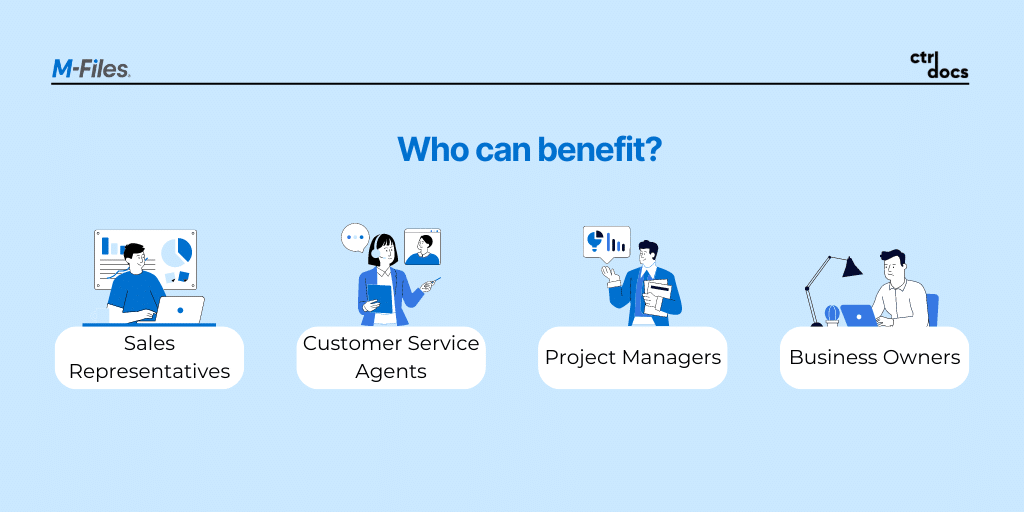 Conclusion
Choosing a CRM isn't just about the present; it's about positioning your business for future success. In the world of CRM, size is no longer the defining factor. By adding CtrlPortals to your M-Files installation, you're stepping into a realm where all customer interactions are recorded, overviews are finely tuned and the foundation for superior customer management is created. So, ask yourself, can you afford to overlook the possibilities CtrlPortals brings to your company's CRM journey?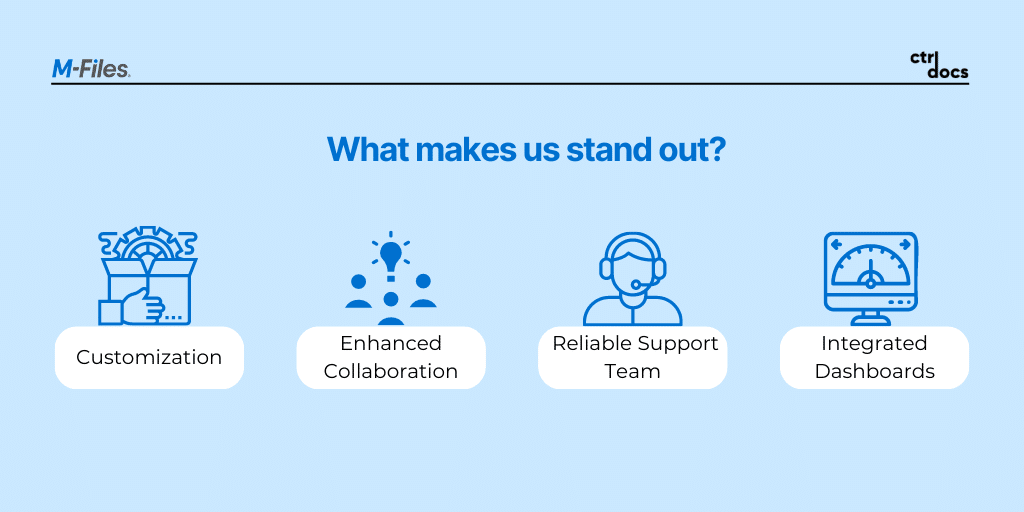 Explore CtrlPortals today and embark on a new way of using M-Files.  
#CtrlPortals #MFiles #ProjectManagement #UserExperience #ITExcellence