CtrlPortals - How to navigate through our CtrlPortals Demo#
Let us introduce you to CtrlPortals – your ticket to a seamless, intuitive, and game-changing interface that will transform how you interact with data.
CtrlPortals can significantly improve the functionality of M-Files as a CRM system. Let's explore how our tailor-made functionalities can change the way you use M-Files.
If needed zoom-in on the screenshot to see more detailed image. You can login to our Demo Vault as Tina Smith (TinaS).
Intuitively Navigate through Relevant Information#
CtrlPortals offers a fresh perspective, empowering you to effortlessly link and visualize your essential information according to your unique needs. Customize, combine, and organize metadata in a way that makes sense to you. Managing data has never been this intuitive!
Here's how to get started:
CRM Overview Dashboard: Click on the CRM Overview Dashboard on the right-hand side to access a personalized overview of your customers and opportunities.

Customer Details: Select A&A Consulting and single-click on their name to view their information within a Customer portal.

Resize the windows: Maximize the Portal window by dragging its border to the left.

Edit and Save: Want to make changes? Simply click on the Edit button to adjust customer details, and remember to save your changes.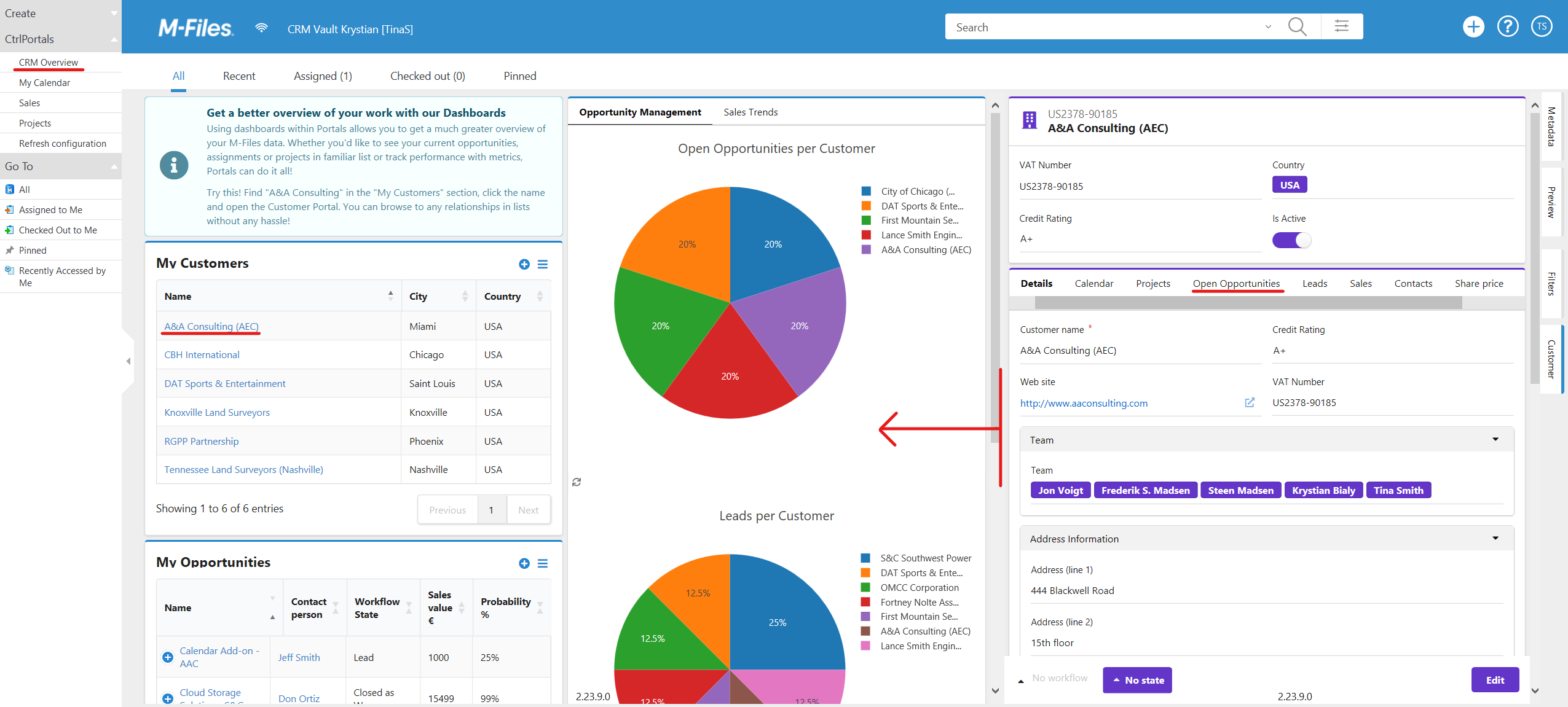 Explore the MenuTabs on the Customer Portal#
Feel free to click through the Tabs and go to other Portals that we have set up for you.
Open Opportunities:
This tab gives you an easy overview of the Opportunities related to your customer
If you single-click on any of the names, you will open them in a new Portal.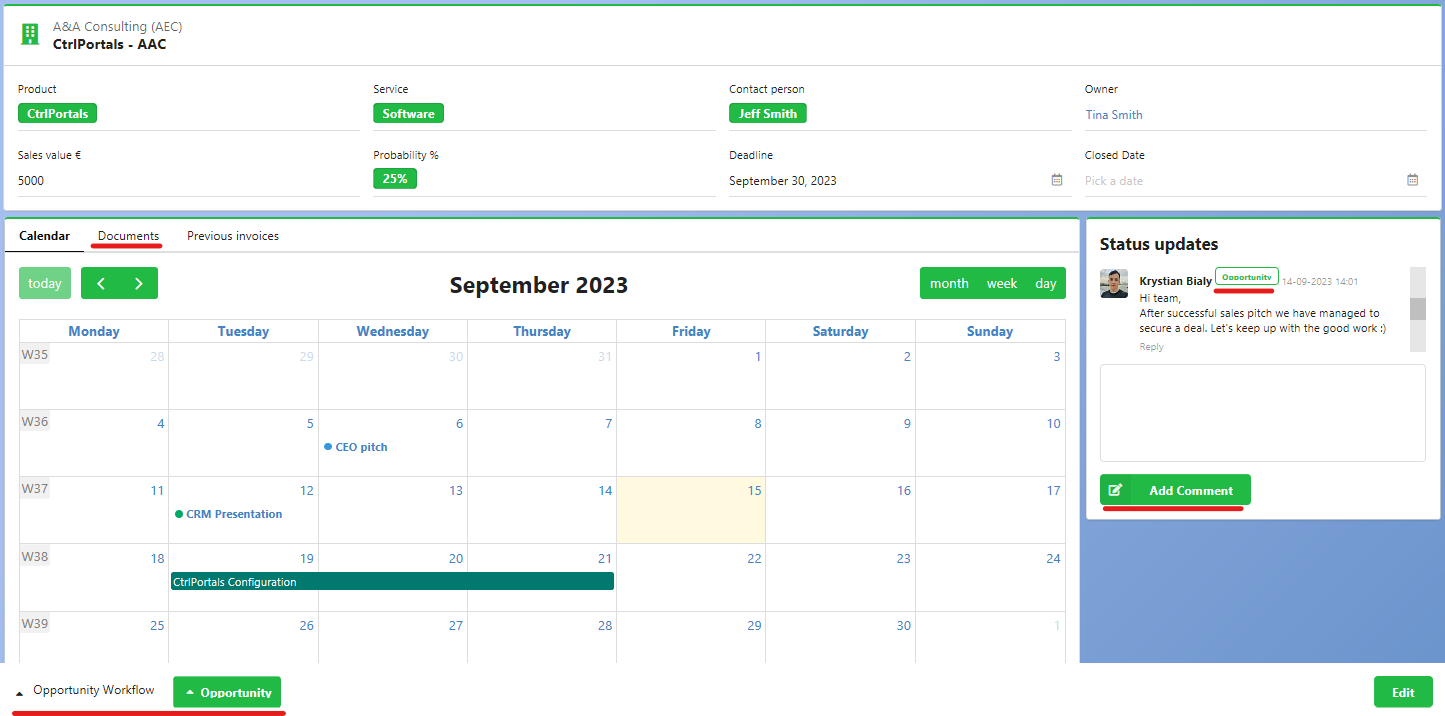 Comments:
CtrlPortals empowers your employees to communicate within the context of their work.
Notice the nested Comment window on the right-hand side. Here you can leave your comments on this specific cutomer.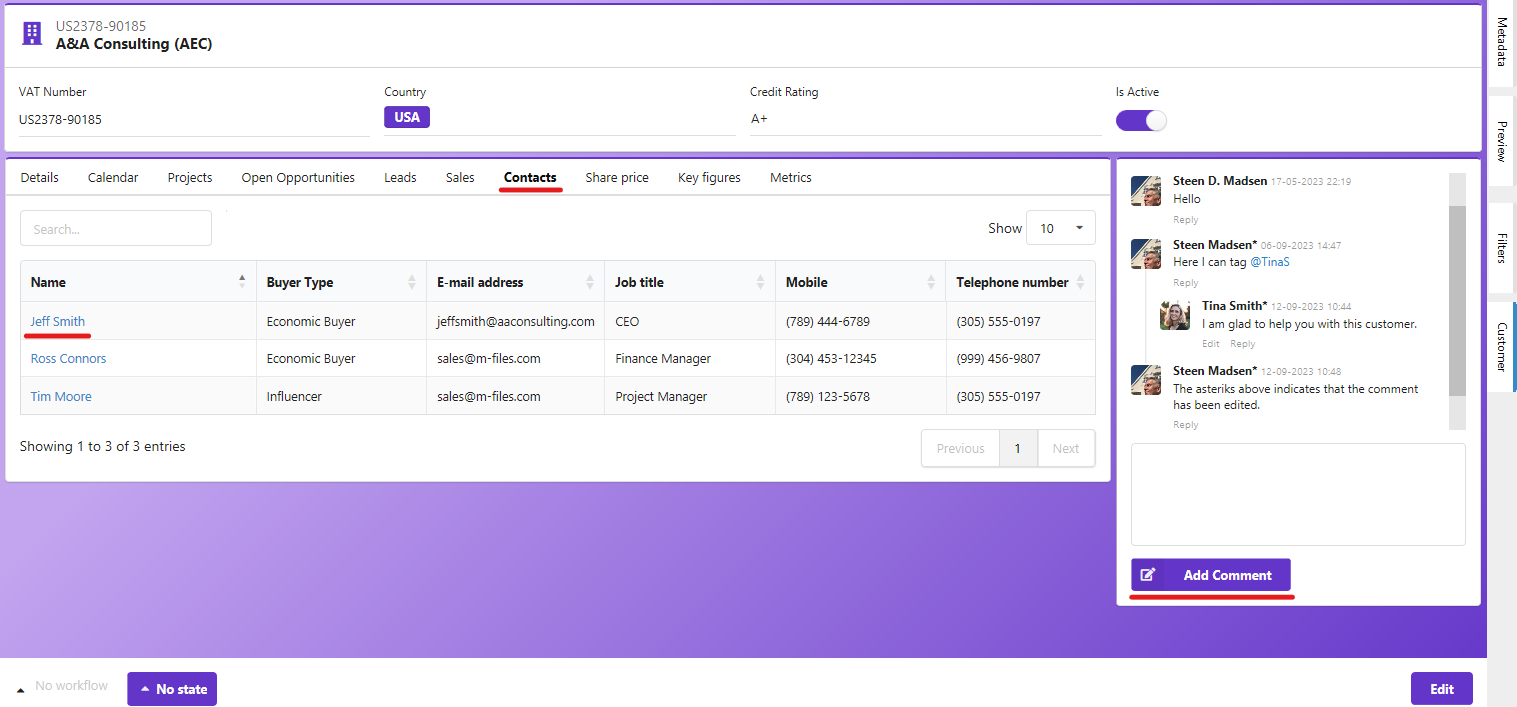 Mention, reply, edit, and view all comments in a threaded feed. Stay connected with notifications and a clear record of workflow state transitions.
Contacts:
Contacts MenuTab can give you a perfect entry for people you are working with on the client side. To see more information about Jeff Smith in a separate Portal single-click on his name.
Now you will be able to arrange the metadata in several rows side by side.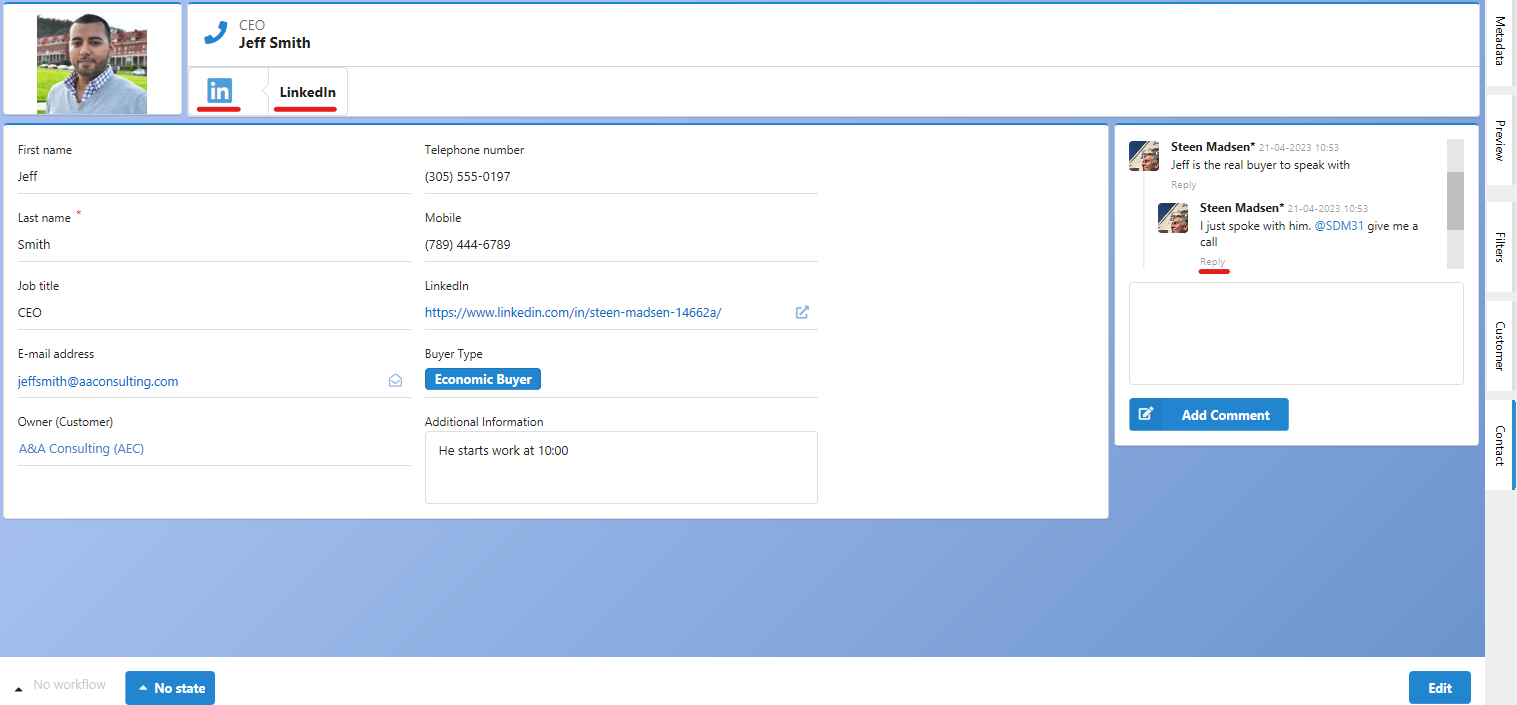 Click on the LinkedIn button.
One of the most powerful features of Portals is the HTML component. With it, you can create custom buttons, embed YouTube videos, or provide clear instructions for training objects.
Share price MenuTab is another example of HTML page possible to share.
Dive into Dashboards & Analytics:
CtrlPortals provides extensive dashboards suitable for project managers, sales teams, and every user in between. Gain meaningful insights through live M-Files data, presented with interactive plots and graphs.
Open Metrics MenuTab on the Customer Portal.

Then select the Sales Dashboard, that is on your left-hand side, to gain immediate access to your sales statistics.

Now you will be able to compare your A&A Consulting sales with the overall sales trends.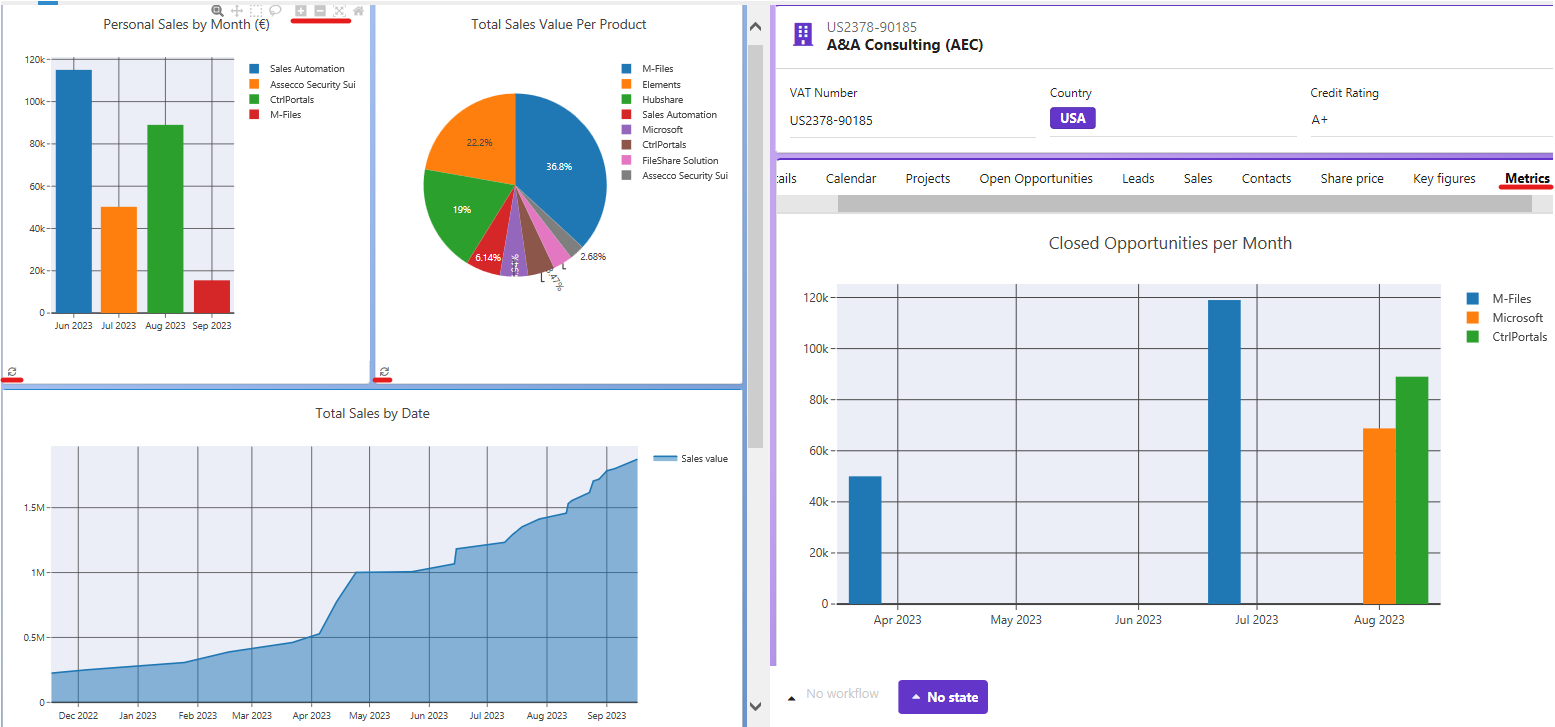 Dive deep into the data, interact with data points, and explore specific entries to understand your sales performance better.
Remember to click the refresh button to update the plots.
Effortless Time Management with Calendar#
Keep your schedule on track with CtrlPortals' Calendar component! Drag, drop, and create events seamlessly while easily managing deadlines, appointments, and project progress.
If you want to find out how to integrate the Calendar events between different Portals check out this article
Notice especially that it is configurable which metadata to show in a specific calendar.
Check out this page if you want to know more about configuring the Event Types. Here we elaborate more on how you can display custom event titles and hover text.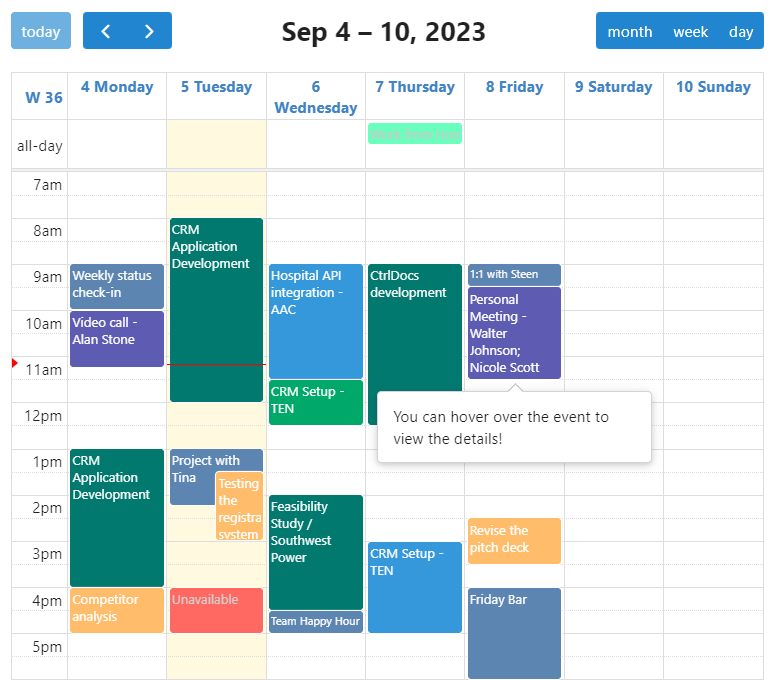 This is a representation of how you can plan your workweek inside the Calendar.